Tommy Dorsey - 5 Mp3 Downloads Available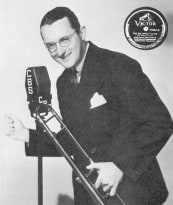 Tommy Dorsey (November 19, 1905 - November 26, 1956) was an American jazz trombonist, trumpeter and bandleader in the Big Band era. He was the younger brother of Jimmy Dorsey.

Thomas Francis Dorsey, Jr. was born in Shenandoah, Pennsylvania and started out only 16 years later in Allentown, Pennsylvania with big band album Russ Morgan in the famous pick-up band of the 1920s "The Scranton Sirens".

Tommy and his brother Jimmy worked in several bands (including those of Rudy Vallee, Vincent Lopez, and especially Paul Whiteman) before forming the original Dorsey Brothers Orchestra in 1934. Ongoing acrimony between the brothers, however, led to Tommy Dorsey's walking out to form his own band in 1935, just as the Orchestra was having a hit with "Every Little Movement."