Theater of Hits - 10 Mp3 Downloads Available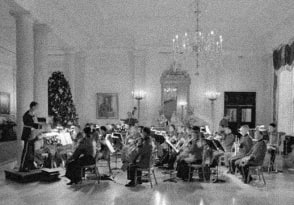 Hosted by John Bachowner, Theatre of Hits is a musical show from 1954. Bachowner provides background information of the musicals, providing added interest for this fascinating and wonderful old time radio show. Each week, the show presents Broadway musical songs performed by the United States Marine Band, under the direction of William F. Saddleman. Each show welcomes you as if you are coming to the theatre to see the show live. You find your seats and settle in for the performance. Theatre of Hits is presented by the US Marine Corp.

For more well-done military-sponsored music programs, see also the jazzy series of The Navy Swings and the Air Force recruitment show, A Serenade in Blue. Additional military music programs include: Guard Sessions, Battle Stations, Theater of Hits, and US Navy Shows.