Tales Of The Texas Rangers - 88 Mp3 Downloads Available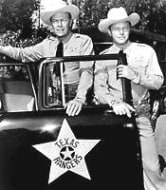 Tales of the Texas Rangers, a western adventure old-time radio drama, premiered on July 8, 1950, on the US NBC radio network and remained on the air through September 14, 1952. Movie star Joel McCrea starred as Texas Ranger Jayce Pearson, who used the latest scientific techniques to identify the criminals and his faithful horse, Charcoal, to track them down.

The shows were reenactments of actual Texas Ranger cases.The series was produced and directed by Stacy Keach, Sr., and was sponsored for part of its run by Wheaties.
Available Episodes
| Episode Title | Broadcast Date | File Size |
| --- | --- | --- |
| The White Elephant | Jul 15, 1950 | 6.95 MB |
| Apache Peak | Jul 22, 1950 | 6.97 MB |
| The Trigger Man | Jul 29, 1950 | 6.91 MB |
| Quick Silver | Aug 05, 1950 | 6.82 MB |
| The Broken Spur | Aug 12, 1950 | 6.84 MB |
| Fools Gold | Aug 19, 1950 | 6.95 MB |
| The Open Range | Aug 26, 1950 | 6.92 MB |
| Play For Keeps | Sep 02, 1950 | 6.89 MB |
| Dead Or Alive | Sep 09, 1950 | 6.85 MB |
| Candy Man | Sep 16, 1950 | 6.86 MB |
| Clean Up | Sep 30, 1950 | 6.85 MB |
| Living Death | Oct 08, 1950 | 6.71 MB |
| Dead Give Away | Oct 15, 1950 | 6.81 MB |
| Soft Touch | Oct 29, 1950 | 6.86 MB |
| 00 Just A Number AUDITION | Apr 19, 1950 | 13 MB |
| 12 Open And Shut | Sep 23, 1950 | 3.46 MB |
| 18 The White Suit | Nov 05, 1950 | 6.87 MB |
| 19 Blood Relative | Nov 12, 1950 | 6.69 MB |
| 20 Hanging By A Thread | Nov 26, 1950 | 6.81 MB |
| 21 Room 114 | Dec 03, 1950 | 6.82 MB |
| 22 The Lucky Dollar | Dec 10, 1950 | 6.85 MB |
| 23 The Cactus Pear | Dec 17, 1950 | 6.86 MB |
| 24 Christmas Present | Dec 24, 1950 | 6.87 MB |
| 25 The Devils Share | Dec 31, 1950 | 6.74 MB |
| 26 Deadhead Freight | Jan 07, 1951 | 6.79 MB |
| 27 Death In The Cards | Jan 14, 1951 | 6.82 MB |
| 28 Blood Harvest | Jan 21, 1951 | 6.83 MB |
| 30 Loggers Larceny | Feb 04, 1951 | 6.85 MB |
| 31 The Hatchet | Feb 11, 1951 | 6.86 MB |
| 32 Sweet Harvest | Feb 18, 1951 | 5.92 MB |
| 33 The Trap | Feb 25, 1951 | 6.93 MB |
| 34 Blind Justice | Mar 11, 1951 | 6.81 MB |
| 35 Death By Adoption | Mar 18, 1951 | 6.82 MB |
| 36 Breakdown | Mar 25, 1951 | 6.88 MB |
| 37 Pressure | Apr 01, 1951 | 6.91 MB |
| 38 Bad Blood | Apr 08, 1951 | 6.86 MB |
| 39 Conspiracy | Apr 15, 1951 | 6.92 MB |
| 40 Canned Death | Apr 22, 1951 | 6.85 MB |
| 42 No Living Witnesses | May 06, 1951 | 6.82 MB |
| 43 Paid In Full | May 13, 1951 | 6.67 MB |
| 44 Squaredance | May 20, 1951 | 6.75 MB |
| 45 Joy Ride | May 27, 1951 | 6.61 MB |
| 46 Death Shaft | Sep 30, 1951 | 6.84 MB |
| 47 The Wheelchair Killer | Oct 07, 1951 | 6.76 MB |
| 49 Fugitive Trail | Oct 21, 1951 | 6.76 MB |
| 54 The Blow Off | Nov 25, 1951 | 6.72 MB |
| 51 Helping Hand | Nov 04, 1951 | 6.85 MB |
| 53 Wild Crop | Nov 18, 1951 | 6.83 MB |
| 56 Death Plant | Dec 09, 1951 | 6.66 MB |
| 57 Pick Up | Dec 16, 1951 | 6.67 MB |
| 58 Christmas Payoff | Dec 23, 1951 | 6.88 MB |
| 59 Killers Crop | Dec 30, 1951 | 6.86 MB |
| 60 Birds Of A Feather | Jan 06, 1952 | 6.89 MB |
| 61 Clip Job | Jan 13, 1952 | 5.06 MB |
| 62 Blood Trail | Jan 20, 1952 | 5.00 MB |
| 63 Night Chase | Jan 27, 1952 | 5.00 MB |
| 64 The Rub Out | Feb 03, 1952 | 6.61 MB |
| 66 Cold Blood | Feb 17, 1952 | 4.82 MB |
| 68 The Ice Man | Mar 02, 1952 | 4.97 MB |
| 67 Bright Boy | Feb 24, 1952 | 6.73 MB |
| 70 Prelude To Felony | Mar 16, 1952 | 6.87 MB |
| 71 Nighthawk | Mar 30, 1952 | 5.00 MB |
| 65 Hitchhiker | Feb 10, 1952 | 4.95 MB |
| 69 Dream Farm | Mar 09, 1952 | 4.99 MB |
| 72 Troop Train | Apr 06, 1952 | 4.99 MB |
| 73 Uncertain Death | Apr 13, 1952 | 6.88 MB |
| 74 Illusion | Apr 20, 1952 | 6.87 MB |
| 75 Address Unknown | Apr 27, 1952 | 6.81 MB |
| 76 Little Sister | May 04, 1952 | 6.85 MB |
| 77 Unleashed Fury | May 11, 1952 | 6.86 MB |
| 78 Smart Kill | May 18, 1952 | 6.83 MB |
| 79 Jailbird | May 25, 1952 | 6.85 MB |
| 80 Sell Out | Jun 01, 1952 | 6.89 MB |
| 81 Illegal Entry | Jun 08, 1952 | 6.85 MB |
| 82 Travesty | Jun 15, 1952 | 4.95 MB |
| 83 Knockout | Jun 22, 1952 | 13 MB |
| 84 Ex Con | Jun 29, 1952 | 13 MB |
| 86 Finger Man | Jul 13, 1952 | 6.72 MB |
| 87 Round Trip | Jul 20, 1952 | 6.73 MB |
| 88 Stick Up | Jul 27, 1952 | 9.20 MB |
| 85 The Boomerang | Jul 06, 1952 | 6.71 MB |
| 89 Double Edge | Aug 03, 1952 | 8.65 MB |
| 90 Last Stop | Aug 10, 1952 | 12 MB |
| 91 Cover Up | Aug 17, 1952 | 6.94 MB |
| 92 Three Victims | Aug 24, 1952 | 6.92 MB |
| 93 Misplaced Person | Aug 31, 1952 | 6.54 MB |
| 94 Alibi | Sep 07, 1952 | 6.78 MB |
| 95 Drive In | Sep 14, 1952 | 6.76 MB |