The New Adventures of Sherlock Holmes - 103 Mp3 Downloads Available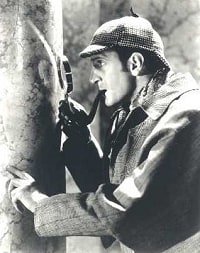 The New Adventures of Sherlock Holmes was an old-time radio show which aired in the USA from October 2, 1939 to July 7, 1947. Originally, the show starred Basil Rathbone as Sherlock Holmes and Nigel Bruce as Dr. Watson. Together, they starred in 220 episodes which aired weekly on Mondays from 8:30 to 9:00pm. Bromo Quinine sponsored some of the earlier programs on the NBC Blue Network and for a period Parker Pen was the sponsor. The show first aired on the Blue Network but later moved to the Mutual Broadcasting System.

Basil Rathbone's last episode as the famous detective was "The Singular Affair of the Baconian Cipher." He was eager to separate himself from the cast type of Holmes, and even though the show's sponsor Petri Wine offered him generous pay to continue, he decided to move on. Once he did, the sponsor did as well, and Tom Conway took the starring role, though Nigel Bruce got top billing and was always announced first. The new sponsor was Kreml Hair Tonic for Men, and the new series only lasted 39 episodes.

With Rathbone and Bruce, the show exhibited an interesting introduction. The sponsor's spokesman would show up weekly at Dr. Watson's house (then retired and living in California), and share a story about Sherlock Holmes and his adventures over a glass of Petri wine. This offered them the chance to sometimes bring in other characters to contribute to the story, and also gave Watson a chance to summarize or add additional tidbits at the end. Another interesting thing about this radio shows introductions was Watson's anecdotes and comments about his dogs usually referred to as the "Puppies".
Available Episodes
| Episode Title | Broadcast Date | File Size |
| --- | --- | --- |
| The Night Before Christmas | Dec 24, 1945 | 6.53 MB |
| Double Zero | Nov 19, 1945 | 6.58 MB |
| Case of Alice Faulkner | Sep 25, 1938 | 6.26 MB |
| Bruce Partington Plans | Nov 06, 1939 | 3.35 MB |
| Retired Colourman | Mar 11, 1940 | 3.32 MB |
| The Copper Beaches | Oct 08, 1940 | 3.09 MB |
| The Adventure of the Missing Blood Stains | May 15, 1944 | 2.65 MB |
| Book of Tobit | Mar 26, 1945 | 3.37 MB |
| Mendicant Society | Apr 02, 1945 | 3.36 MB |
| The Case of the Vienese Strangler | Apr 09, 1945 | 2.96 MB |
| Canary Trainer | Apr 23, 1945 | 2.99 MB |
| Unfortunate Tobacconist | Apr 30, 1945 | 2.94 MB |
| Purloined Ruby | May 07, 1945 | 3.38 MB |
| In Flanders Field | May 14, 1945 | 3.21 MB |
| Paradol Chamber | May 21, 1945 | 2.90 MB |
| Limping Ghost | Sep 03, 1945 | 3.17 MB |
| The Story of Colonel Warburtons Madness | Sep 10, 1945 | 3.21 MB |
| Out of Date Murder | Sep 17, 1945 | 3.23 MB |
| Eyes of Mr Leyton | Sep 24, 1945 | 3.27 MB |
| Thor Bridge | Oct 01, 1945 | 3.24 MB |
| The Mystery of the Vanishing White Elephant | Oct 08, 1945 | 3.26 MB |
| Manor House Case | Oct 15, 1945 | 3.31 MB |
| Great Gandolf | Oct 22, 1945 | 3.29 MB |
| Murder by Moonlight | Oct 29, 1945 | 3.25 MB |
| Gunpowder Plot | Nov 05, 1945 | 3.33 MB |
| The Speckled Band | Nov 12, 1945 | 3.30 MB |
| The Double Zero | Nov 19, 1945 | 3.27 MB |
| Accidental Murder | Nov 26, 1945 | 3.26 MB |
| Murder in Casbah | Dec 03, 1945 | 3.21 MB |
| Scandal in Bohemia | Dec 10, 1945 | 3.27 MB |
| Second Generation | Dec 17, 1945 | 3.28 MB |
| The Night Before Christmas | Dec 24, 1945 | 3.25 MB |
| Iron Box | Dec 31, 1945 | 3.54 MB |
| Murder in Wax | Jan 07, 1946 | 3.26 MB |
| Murder Beyond Mountains | Jan 15, 1946 | 3.31 MB |
| Pigeon Feathers | Jan 21, 1946 | 3.23 MB |
| Demon Barber | Jan 28, 1946 | 3.28 MB |
| Mr Edwards | Feb 04, 1946 | 3.26 MB |
| Guileless Gypsy | Feb 11, 1946 | 3.24 MB |
| Camberwell Poison | Feb 18, 1946 | 3.31 MB |
| Terrifying Cats | | 3.23 MB |
| Submarine Caves | Mar 04, 1946 | 3.33 MB |
| Living Doll | Mar 11, 1946 | 3.25 MB |
| Blarney Stone | Mar 18, 1946 | 3.30 MB |
| Girl with Gazelle | Mar 25, 1946 | 3.18 MB |
| April Fools Day | Apr 01, 1946 | 3.25 MB |
| Disappearing Scientists | Apr 08, 1946 | 3.26 MB |
| Headless Monk | Apr 15, 1946 | 3.17 MB |
| Waltz of Death | Apr 29, 1946 | 3.59 MB |
| Twisted Lip | May 06, 1946 | 3.25 MB |
| Uneasy Easy Chair | May 13, 1946 | 3.24 MB |
| Haunting of Sherlock Holmes | May 20, 1946 | 3.30 MB |
| The Baconian Cipher | May 27, 1946 | 3.29 MB |
| The Adventure of the Tolling Bell | Apr 07, 1947 | 2.90 MB |
| Laughing Lemur | Oct 26, 1947 | 3.33 MB |
| Cadaver in Roman Toga | Nov 09, 1947 | 3.36 MB |
| Well Staged Murder | Nov 16, 1947 | 3.36 MB |
| Stolen Navel Treaty | Nov 23, 1947 | 3.34 MB |
| Moriarty and Diamond Jubilee | Dec 07, 1947 | 3.33 MB |
| Christmas Bride | Dec 21, 1947 | 3.12 MB |
| New Years Eve Off Scilly Isles | Dec 28, 1947 | 3.34 MB |
| Mazarin Stone | Jan 04, 1948 | 3.24 MB |
| Sudden Senility | Jan 11, 1948 | 3.35 MB |
| The Second Stain | Nov 16, 1954 | 2.90 MB |
| The Final Problem | Dec 21, 1954 | 3.09 MB |
| Charles Milverton | Jan 02, 1955 | 3.19 MB |
| The Missing Three Quarter | Jan 06, 1955 | 3.09 MB |
| Second Stain | Jan 30, 1955 | 2.92 MB |
| Speckled Band | Mar 20, 1955 | 2.93 MB |
| Silver Blaze | Mar 27, 1955 | 2.86 MB |
| The Adventure of the Golden Pince-Nez | Apr 03, 1955 | 2.69 MB |
| The Mazarin Stone | Apr 29, 1955 | 3.11 MB |
| The Manor House Case | Oct 15, 1955 | 3.23 MB |
| The Beryl Coronet | Jun 30, 1959 | 2.98 MB |
| The Blanched Soldier | Aug 04, 1959 | 3.06 MB |
| The Copper Beeches | Aug 11, 1959 | 3.04 MB |
| The Noble Bachelor | Aug 18, 1959 | 3.31 MB |
| Shoscombe Old Place | Aug 25, 1959 | 3.22 MB |
| The Stock Brokers Clerk | Feb 23, 1960 | 2.95 MB |
| The Greek Interpreter | Apr 05, 1960 | 3.14 MB |
| The Engineers Thumb | May 17, 1960 | 3.10 MB |
| The Valley of Fear | Dec 31, 1960 | 9.39 MB |
| Hound of the Baskervilles Part 1 | Aug 05, 1961 | 3.04 MB |
| Hound of the Baskervilles Part 2 | Aug 05, 1961 | 2.91 MB |
| The Solitary Cyclist | Aug 21, 1961 | 2.94 MB |
| The Empty House | Nov 27, 1961 | 2.87 MB |
| The Reigate Squires | Dec 04, 1961 | 2.46 MB |
| The Priory School | Jan 08, 1962 | 2.86 MB |
| Silver Blaze | Jul 24, 1962 | 3.21 MB |
| The Golden Pincenez | Aug 07, 1962 | 2.95 MB |
| The Mazarin Stone | Sep 04, 1962 | 3.11 MB |
| Study in Scarlet Part 1 | Dec 22, 1962 | 3.54 MB |
| Study in Scarlet Part 2 | Dec 22, 1962 | 3.50 MB |
| Study in Scarlet Part 3 | Dec 22, 1962 | 3.44 MB |
| The Sign of the Four Part 1 | Mar 02, 1963 | 3.21 MB |
| The Sign of the Four Part 2 | Mar 02, 1963 | 3.11 MB |
| The Sign of the Four Part 3 | Mar 02, 1963 | 2.91 MB |
| The Solitary Cyclist | Aug 21, 1964 | 2.94 MB |
| The Bruce Partington Plans | Aug 28, 1964 | 3.11 MB |
| The Norwood Builder | Sep 11, 1964 | 3.00 MB |
| The Sussex Vampire | Sep 18, 1964 | 3.26 MB |
| The Red Headed League | Sep 25, 1964 | 3.13 MB |
| The Retired Colourman | Oct 09, 1964 | 3.08 MB |