Red Skelton - 27 Mp3 Downloads Available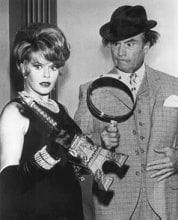 After 1937 appearances on The Rudy Vallee Show, Skelton became a regular in 1939 on NBC's Avalon Time, sponsored by Avalon Cigarettes. On October 7, 1941, Skelton premiered his own radio show, The Raleigh Cigarette Program, developing routines involving a number of recurring characters, including punch-drunk boxer Cauliflower McPugg, inebriated Willie Lump-Lump and "mean widdle kid" Junior, whose favorite phrase ("I dood it!") became part of the American lexicon. There was con man San Fernando Red with his pair of crosseyed seagulls, Gertrude and Heathcliffe, and singing cabdriver Clem Kadiddlehopper, a country bumpkin with a big heart and a slow wit. Clem had an unintentional knack for upstaging high society slickers, even if he couldn't manipulate his cynical father: "When the stork brought you, Clem, I shoulda shot him on sight!" Skelton also helped sell WWII war bonds on the top-rated show, which featured Ozzie and Harriet Nelson in the supporting cast, plus the Ozzie Nelson Orchestra and announcer Truman Bradley. Harriet Nelson was the show's vocalist.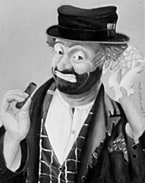 Skelton was drafted in March 1944, and the popular series was discontinued June 6, 1944. Shipped overseas to serve with an Army entertainment unit as a private, Skelton had a nervous breakdown in Italy, spent three months in a hospital and was discharged in September, 1945. He once joked about his military career, "I was the only celebrity who went in and came out a private." On December 4, 1945, The Raleigh Cigarette Program resumed where it left off with Skelton introducing some new characters, including Bolivar Shagnasty and J. Newton Numbskull. Lurene Tuttle and Verna Felton appeared as Junior's mother and grandmother. David Forrester and David Rose led the orchestra, featuring vocalist Anita Ellis. The announcers were Pat McGeehan and Rod O'Connor. The series ended May 20, 1949, and that fall he moved to CBS. Ironically, given that his peak of popularity came with his television show, in recent years recordings of the Red Skelton radio show have become much easier to come by than the TV show.
Available Episodes
| Episode Title | Broadcast Date | File Size |
| --- | --- | --- |
| Bells and Resolutions | Jan 01, 1946 | 6.71 MB |
| Looking for Trouble | Jan 29, 1946 | 6.80 MB |
| Meeting Strangers | Feb 12, 1946 | 6.77 MB |
| Easy Money | Apr 16, 1946 | 6.99 MB |
| Barbers | Sep 17, 1946 | 6.78 MB |
| Photography | Nov 05, 1946 | 6.81 MB |
| Automobile Parking Problem | Nov 19, 1946 | 6.82 MB |
| Railroads | Dec 03, 1946 | 6.80 MB |
| Old Man Winter | Dec 31, 1946 | 6.93 MB |
| A Christmas Story | Dec 24, 1946 | 7.07 MB |
| A New Dead Eye | | 6.19 MB |
| A New Years Puzzle | | 6.76 MB |
| Air Mail Postage Up To 6 Cents | | 7.03 MB |
| Big Business Venture | | 6.82 MB |
| Big Scare | | 6.50 MB |
| Buying Insurance | | 6.61 MB |
| Careless Driving | | 6.88 MB |
| Christmas Show | Dec 25, 1946 | 5.45 MB |
| Circus | | 6.91 MB |
| Dancing | | 6.93 MB |
| Fear | | 6.92 MB |
| Flight To London | | 6.75 MB |
| Friendly Farmer | | 6.96 MB |
| Helter Skelter | | 6.76 MB |
| Job Hunting | | 6.93 MB |
| People Who Brag | | 7.23 MB |
| Town Gossip | | 6.98 MB |