The Ray Anthony Show - 2 Mp3 Downloads Available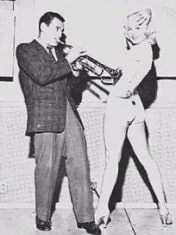 Ray Anthony (born Raymond Antonini, January 20, 1922, in Bentleyville, Pennsylvania) is an American bandleader, trumpeter, songwriter and actor.

As a child Anthony moved with his family to Cleveland, Ohio, where he began studying the trumpet with his father. He played in Glenn Miller's band from 1940-1941 before joining the U.S. Navy during World War II. After the war he formed his own group. The Ray Anthony Orchestra became very popular in the early 1950s, with recordings that included Anthony's classic dance songs "The Bunny Hop" and the "Hokey Pokey," as well as the theme music from Dragnet.

From 1953-1954 Anthony was the musical director on the television series TV's Top Tunes, and he also appeared as himself in the 1955 film Daddy Long Legs. In 1955 Anthony married sex symbol actress Mamie Van Doren and began expanding his own acting career. He starred in a short-lived television 1956-1957 variety show, The Ray Anthony Show. Anthony also appeared in several films during the late 1950s, including The Five Pennies (where he portrayed Jimmy Dorsey), and Van Doren's movies High School Confidential and Girls Town.

Anthony and Van Doren divorced in 1961, and Anthony's brief film career ended at about the same time. However, he continued his musical career and had another hit record with the theme from Peter Gunn.

Anthony was considered one of the most modern of the big band leaders. In the lyrics to "Opus One", which imagine a number of players performing the song, he is cited along with Les Brown and his Band of Renown:

If Mr. Les Brown can make it renowned
And Ray Anthony could rock it for me
Anthony and his band were also featured in the movie The Girl Can't Help It and treated as one more of the many rockers in the line-up, but also shown in performances with Mansfield that are essential to the plot.

Anthony has been honored with a star on the Hollywood Walk of Fame.