Louis Armstrong - 2 Mp3 Downloads Available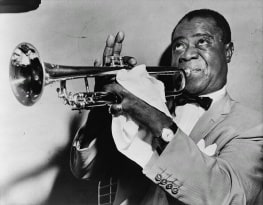 Louis Armstrong (4 August 1901 - July 6, 1971), nicknamed Satchmo and Pops, was an American jazz musician. Armstrong was a charismatic, innovative performer whose inspired, improvised soloing was the main influence for a fundamental change in jazz, shifting its focus from collective melodic playing, often arranged in one way or another, to the solo player and improvised soloing. One of the most famous jazz musicians of the 20th century, he first achieved fame as a cornet player, later on switching to trumpet, but toward the end of his career he was best known as a vocalist and became one of the most influential jazz singers.

Armstrong often stated in public interviews that he was born on July 04, 1900 (Independence Day in the USA), a date that has been noted in many biographies. Although he died in 1971, it wasn't until the mid-1980s that his true birthdate of August 4th, 1901 was discovered through the examination of baptismal records.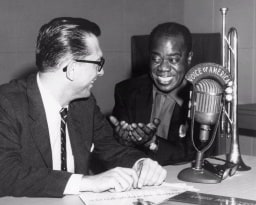 Armstrong was born into a very poor family in New Orleans, Louisiana. He spent his youth in poverty in a rough neighborhood of uptown New Orleans, as his father, William Armstrong (1881-1922), abandoned the family when Louis was an infant. His mother, Mary Albert Armstrong (1886-1942), then left Louis and his younger sister Beatrice Armstrong Collins (1903-1987) in the care of his grandmother, Josephine Armstrong.

Armstrong first learned to play the cornet (his first of which was bought with money loaned to him by the Karnofskys, a Russian-Jewish immigrant family) in the band of the New Orleans Home for Colored Waifs, where he had been sent multiple times for general delinquency, most notably for a long term after firing his stepfather's pistol into the air at a New Year's Eve celebration, as police records confirm. To express gratitude towards the Karnofskys, Armstrong wore a Star of David pendant for the rest of his life.

He followed the city's frequent brass band parades and listened to older musicians every chance he got, learning from Bunk Johnson, Buddy Petit, Black Benny and above all, Joe "King" Oliver, who acted as a mentor and father figure to the young musician. Armstrong later played in the brass bands and riverboats of New Orleans, and first started traveling with the well-regarded band of Fate Marable which toured on a steamboat up and down the Mississippi River. He described his time with Marable as "going to the University," since it gave him a much wider experience working with written arrangements.

In 1919, Joe Oliver resigned his position in Kid Ory's band, then regarded as the best hot jazz group in New Orleans, and left town. Armstrong replaced his mentor, playing second trumpet. Louis soon became the best trumpeter in the band and was promoted to first trumpet.