The Lives Of Harry Lime - 48 Mp3 Downloads Available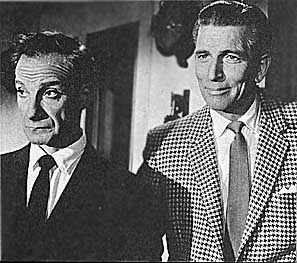 The Lives of Harry Lime (original British title The Adventures of Harry Lime) was an old-time radio program produced in London, England during the 1951 to 1952 season.

Orson Welles reprized his role of Harry Lime from the celebrated 1949 film adaptation of Graham Greene's novel The Third Man. The radio series is a "prequel" to the film, and depicts the many misadventures of con-artist Lime in a somewhat lighter tone than the character's villainy in the film.

Most episodes would begin with "The Third Man Theme" being played, abruptly cut off by an echoing gunshot. Then Welles would speak: "That was the shot that killed Harry Lime. He died in a sewer beneath Vienna, as those of you know who saw the movie The Third Man. Yes, that was the end of Harry Lime... but it was not the beginning. Harry Lime had many lives... and I can recount all of them. How do I know? Very simple. Because my name is Harry Lime."
Available Episodes
| Episode Title | Broadcast Date | File Size |
| --- | --- | --- |
| Too Many Crooks | Aug 03, 1951 | 6.58 MB |
| See Naples and Live | Aug 10, 1951 | 6.64 MB |
| Clay Pidgeon | Aug 17, 1951 | 6.67 MB |
| A Ticket To Tangier | Aug 24, 1951 | 6.44 MB |
| Voodoo | Aug 31, 1951 | 6.60 MB |
| The Bohemian Star | Sep 07, 1951 | 6.58 MB |
| Love Affair | Sep 14, 1951 | 6.66 MB |
| Rogues Holiday | Sep 21, 1951 | 6.53 MB |
| Work Of Art | Sep 28, 1951 | 6.37 MB |
| Operation Music Box | Oct 05, 1951 | 6.50 MB |
| The Golden Fleece | Oct 12, 1951 | 6.37 MB |
| Blue Bride | Oct 19, 1951 | 6.30 MB |
| Every Frame Has Silver Lining | Oct 26, 1951 | 6.44 MB |
| Mexican Hat Trick | Nov 02, 1951 | 6.60 MB |
| Art Is Long | Nov 09, 1951 | 6.32 MB |
| In Pursuit of a Ghost | Nov 16, 1951 | 6.52 MB |
| Horse Play | Nov 23, 1951 | 6.52 MB |
| 3 Farthings for Your Thoughts | Nov 30, 1951 | 6.58 MB |
| The Third Woman | Dec 07, 1951 | 6.64 MB |
| An Old Moorish Custom | Dec 14, 1951 | 6.49 MB |
| It's A Knock Out | Dec 21, 1951 | 6.14 MB |
| Two Is Company | Dec 28, 1951 | 6.35 MB |
| Cherchez La Gem | Jan 04, 1952 | 6.49 MB |
| The Hand of Glory | Jan 11, 1952 | 6.49 MB |
| The Double Double Cross | Jan 18, 1952 | 6.58 MB |
| 5000 Pengoes and a Kiss | Jan 25, 1952 | 6.54 MB |
| The Dark Enchantress | Feb 01, 1952 | 6.26 MB |
| Earl On Troubled Waters | Feb 08, 1952 | 6.46 MB |
| Dead Candidate | Feb 15, 1952 | 6.52 MB |
| Hyacinth Patrol | Feb 29, 1952 | 6.10 MB |
| Turn About Is Foul Play | Mar 07, 1952 | 6.18 MB |
| Violets Sweet Violets | Mar 14, 1952 | 6.08 MB |
| Faith, Lime and Charity | Mar 21, 1952 | 6.52 MB |
| Pleasure Before Business | Mar 28, 1952 | 6.41 MB |
| The Painted Smile | Apr 18, 1952 | 6.59 MB |
| Harry Lime Joins The Circus | Apr 25, 1952 | 6.60 MB |
| Vive le Chance | May 09, 1952 | 6.53 MB |
| The Elusive Vemeer | May 16, 1952 | 6.55 MB |
| Murder On The Riveria | May 23, 1952 | 6.39 MB |
| Pearls Of Bohemia | May 30, 1952 | 6.43 MB |
| A Night In The Harem | Jun 06, 1952 | 6.52 MB |
| Black Mail Is A Nasty Word | Jun 13, 1952 | 6.56 MB |
| The Professor Regrets | Jun 20, 1952 | 6.68 MB |
| The Hard Way | Jun 27, 1952 | 6.57 MB |
| Paris Is Not The Same | Jul 04, 1952 | 5.26 MB |
| Honeymoon | Jul 11, 1952 | 5.47 MB |
| The Blue Caribou | Jul 18, 1952 | 6.27 MB |
| Greek Meets Greek | Jul 25, 1952 | 5.49 MB |