Judy Canova Show - 10 Mp3 Downloads Available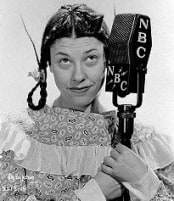 Judy Canova (November 20, 1913 - August 5, 1983) was an American comedienne, actress, singer and radio personality.

The popularity of the Canova family led to numerous performances on radio in the 1930s, and they made their Broadway debut in the revue, Calling All Stars. An offer from Warner Bros. led to several bit parts before she signed with Republic Pictures. During her career she recorded for the RCA Victor label and appeared in more than two dozen Hollywood films, including Scatterbrain (1940), Joan of Ozark (1942) and Lay That Rifle Down (1955).

In 1943, she began her own radio program, The Judy Canova Show, that ran for 12 years, first on CBS and then on NBC. Playing herself as a love-starved Ozark bumpkin dividing time between home and southern California, Canova was accompanied by a cast that included voicemaster Mel Blanc as Pedro (using the accented voice he later gave cartoons' Speedy Gonzales), Ruth Perrott as Aunt Aggie, Ruby Dandridge as Geranium, Joseph Kearns as Benchley Botsford, and Sharon Douglas as Brenda, with Gale Gordon, Sheldon Leonard, and Hans Conried also making periodic appearances. The Sportsmen Quartet, soon to become familiar to fans of Jack Benny, provided some of the music and the Charles Dant Orchestra provided the rest, usually supporting Canova's country warble. (She was sometimes known as the Ozark Nightingale.)

During World War II, she closed her show with the song "Goodnight, Soldier" ("wherever you may be... my heart's lonely... without you") and used her free time to sell U.S. War Bonds. After the war, she introduced a new closing theme that she once said she remembered her own mother singing to her when she was a small child:

Go to sleep-y, little baby,
Go to sleep-y, little baby,
When you wake
You'll patty-patty cake,
And ride a shiny little pony.
Canova recorded the song in 1946.

While a hit with her own show, Canova made frequent appearances on other popular radio programs of the day, including and especially those hosted by Abbott and Costello and Fred Allen.
Available Episodes
| Episode Title | Broadcast Date | File Size |
| --- | --- | --- |
| Practicing Sax | Nov 03, 1945 | 6.61 MB |
| Picnic | Sep 15, 1945 | 7.09 MB |
| Train Trip East | Dec 01, 1945 | 6.71 MB |
| Soda Pop Contest | Nov 10, 1945 | 6.95 MB |
| A Date With Mickey Rooney | Aug 24, 1943 | 2.71 MB |
| Starring Judy Canova | Nov 09, 1943 | 1.15 MB |
| Back From Army Camp | Oct 19, 1943 | 2.72 MB |
| Guest Eddie Cantor | Jan 17, 1948 | 3.29 MB |
| Judy Reads Scripts | May 29, 1948 | 3.32 MB |
| Starring Judy Canova | Jun 19, 1948 | 3.14 MB |