Jerry of the Circus - 15 Mp3 Downloads Available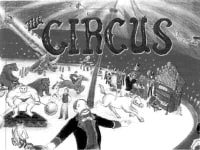 Old Time Radio Program, a 15 minute series for children, syndicated in 1937 Follows The Adventures Of Jerry and his dog Rags Who joins Sam Randalls Circus after the Death of his Family.

The show follows the life and adventures of young Jerry Dugan raised by the circus owner, Sam Randall. In the premiere episode after the death of his father Jerry brings a note from his father saying that Jimmy "has circus in his blood." From then on he and his dog, Rags, were a member of the circus.