The Adventures of Horatio Hornblower - 46 Mp3 Downloads Available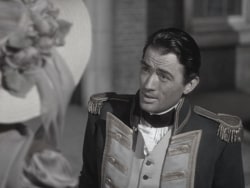 Horatio Hornblower is a fictional protagonist of a series of novels by C. S. Forester, and later the subject of films and television programs. Ernest Hemingway is quoted as saying, "I recommend Forester to everyone literate I know."

Hornblower is iconic in Age of Sail traditional naval fiction, and any writer in the genre must deal with comparisons to Forester. There are many parallels between Hornblower and real naval officers of the period, especially Thomas Cochrane and Horatio Nelson. The name "Horatio" was inspired by the character in William Shakespeare's Hamlet and chosen also because of its association with contemporary figures such as Nelson.

At the same time, Forester wrote the body of the works carefully to avoid entanglements with real world history, so Hornblower is always off on another mission when a great naval victory occurs during the Napoleonic Wars; concurrently, whatever he has Hornblower dealing with is usually important too, if less heralded.
Available Episodes
| Episode Title | Broadcast Date | File Size |
| --- | --- | --- |
| Fighting The Spanish On The Renoun | Jul 10, 1953 | 4.80 MB |
| Horatio Deals With A Mad King | Jul 07, 1952 | 6.29 MB |
| Horatio Captures The Natividad | Jul 14, 1952 | 6.80 MB |
| Shakey Alliance With El Supremo | Jul 21, 1952 | 4.96 MB |
| Battle Against El Supremo | Jul 28, 1952 | 5.07 MB |
| Lydia Sinks The Natividad | Aug 04, 1952 | 4.97 MB |
| Damaged Lydia Heads For Panama | Aug 11, 1952 | 4.94 MB |
| Return To The Fleet | Aug 18, 1952 | 6.33 MB |
| Return To The Sea | Aug 25, 1952 | 6.71 MB |
| Protecting The Convoy | Sep 01, 1952 | 4.93 MB |
| Disguised As A French Ship | Sep 08, 1952 | 4.99 MB |
| Guerilla Action | Oct 03, 1952 | 5.00 MB |
| Mutiny On The Flame | Oct 24, 1952 | 5.10 MB |
| Disguised As The Flame | Oct 31, 1952 | 4.99 MB |
| Capture Of Le Harve The | Nov 14, 1952 | 5.13 MB |
| Napoleon Is Defeated | Dec 12, 1952 | 4.46 MB |
| Prisoner In 1811 A | Dec 19, 1952 | 4.89 MB |
| Horatio Meets Marie And Escapes | Dec 26, 1952 | 4.86 MB |
| Horatio Captures A Ship | Jan 02, 1953 | 4.87 MB |
| Rejoining The Fleet | Jan 09, 1953 | 4.41 MB |
| Horatio Is Court Martialed | Jan 16, 1953 | 4.31 MB |
| Into The Baltic | Jan 23, 1953 | 6.35 MB |
| Chasing The Blanche Fluer | Jan 30, 1953 | 6.35 MB |
| Alliance With Russia | Feb 06, 1953 | 4.89 MB |
| Reception With The Czar | Feb 13, 1953 | 4.80 MB |
| Attack On Fort At Fisher S Half | Feb 20, 1953 | 4.87 MB |
| Port Of Riga | Feb 27, 1953 | 4.90 MB |
| Delaying The French | Mar 06, 1953 | 4.70 MB |
| The French Are Stopped | Mar 13, 1953 | 4.35 MB |
| The Duel | Mar 20, 1953 | 4.87 MB |
| The Spanish Leave Napoleon | Mar 27, 1953 | 4.75 MB |
| Hornblowers First Command | Apr 03, 1953 | 4.53 MB |
| Prisoner Of The French On The Peek | Apr 10, 1953 | 4.56 MB |
| The 43rd Marines | Apr 17, 1953 | 4.90 MB |
| Spain Becomes Neutral | Apr 24, 1953 | 4.83 MB |
| Exam For Lieutenant | May 01, 1953 | 6.74 MB |
| Quarantined For The Plague | May 08, 1953 | 4.83 MB |
| Chasing The Papillion | May 15, 1953 | 4.82 MB |
| Command Of The La Mouch | May 22, 1953 | 4.77 MB |
| Prisoner And Rescue Of Spanish | May 29, 1953 | 4.91 MB |
| First Meeting With Bush | Jun 05, 1953 | 4.65 MB |
| Planning Mutiny On The Renoun | Jun 12, 1953 | 4.79 MB |
| First Attack On Haiti Fails | Jun 19, 1953 | 4.79 MB |
| Attack On Haiti Fort | Jun 26, 1953 | 4.86 MB |
| Yellow Fever | Jul 03, 1953 | 4.90 MB |
| Promoted To Captain Of The Retribution | Jul 17, 1953 | 6.96 MB |