Hopalong Cassidy - 19 Mp3 Downloads Available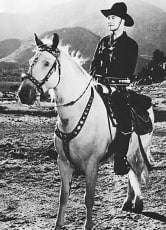 Hopalong Cassidy is a cowboy-hero, created in 1904 by Clarence E. Mulford and appearing in a series of popular stories and novels. In print, the character appears as a rude, rough-talking 'galoot'. Beginning in 1935, the character, played by William Boyd, was transformed into the clean-cut hero of a series of 66 immensely popular films, only a few of which were based on Mulford's works. Mulford actually rewrote his earlier stories to fit the movie conception, and these led in turn to a comic book series modeled after the films.

As portrayed on the screen, the white-haired Bill "Hopalong" Cassidy was usually clad strikingly in black. He was reserved and well spoken, with a fine sense of fair play. He was often called upon to intercede when dishonest characters were taking advantage of honest citizens. "Hoppy" usually traveled through the west with two companions: one young and trouble-prone with a weakness for damsels in distress, the other comically awkward and outspoken.

The juvenile lead was played by James Ellison, Russell Hayden, or Rand Brooks. Gabby Hayes originally played Cassidy's grizzled sidekick Windy Halliday. After Hayes left the series due to a salary dispute with producer Harry Sherman, he was replaced by comedian Britt Wood as Speedy McGinnis, and finally by veteran movie comedian Andy Clyde as California Carlson. Clyde, the most durable of the sidekicks, remained with the series until it ended.