Gunsmoke - 480 Mp3 Downloads Available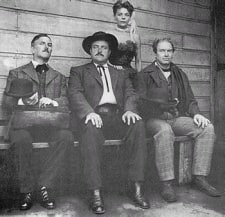 Gunsmoke is an American radio and television Western drama series created by director Norman MacDonnell and writer John Meston. The stories take place in and around Dodge City, Kansas, during the settlement of the American West.

The radio version ran from 1952 to 1961 and is commonly regarded as one of the finest radio dramas of all time. The television version ran from 1955 to 1975 and is the longest running prime time drama and the second-longest running prime time fictional program in U.S. television history, its record surpassed only by the Disney anthology television series (which, though essentially the same in every incarnation, has appeared on TV under several titles).
Available Episodes
| Episode Title | Broadcast Date | File Size |
| --- | --- | --- |
| The Boughten Bride | Jul 12, 1952 | 6.78 MB |
| The Lynching | Aug 16, 1952 | 6.43 MB |
| Shakespeare | Aug 23, 1952 | 6.87 MB |
| Tara | Nov 07, 1952 | 6.37 MB |
| The Square Triangle | Nov 14, 1952 | 6.29 MB |
| Cavalcade | Jan 31, 1953 | 6.78 MB |
| The Roundup | Feb 14, 1953 | 6.76 MB |
| The Big Con | May 16, 1953 | 4.58 MB |
| The Lamb | Dec 05, 1953 | 4.37 MB |
| Stage Hold-Up | Jan 02, 1954 | 3.58 MB |
| The Gentleman | Mar 06, 1954 | 3.88 MB |
| The Mistake | Mar 19, 1955 | 4.88 MB |
| Born To Hang | Apr 23, 1955 | 4.70 MB |
| Potato Road | May 07, 1955 | 5.05 MB |
| Liar From Black Hawk | May 21, 1955 | 5.12 MB |
| The Pacifist | Jun 03, 1956 | 3.31 MB |
| Cheap Labor | Jun 17, 1956 | 4.43 MB |
| Gentleman's Disagreement | | 15 MB |
| Absalom | | 14 MB |
| The Guitar (reused script) | | 5 MB |
| The Juniper Tree | | 14 MB |
| Renegade White | | 15 MB |
| Ball Nine, Take Your Base | | 13 MB |
| Fingered | | 15 MB |
| The Cabin | | 14 MB |
| Word of Honor (reused script) | | 8 MB |
| Third Son | | 11 MB |
| Two Mothers | | 14 MB |
| Boy | | 14 MB |
| Prescribed Killing | | 14 MB |
| Summer Night | | 11 MB |
| The Gentleman | | 12 MB |
| The Hunter | | 12 MB |
| Billy the Kid | | 14 MB |
| Doc's Revenge | | 12 MB |
| Wagon Show | | 12 MB |
| Pussy Cats | | 14 MB |
| Wind | | 14 MB |
| General Parsley Smith | | 14 MB |
| I Thee Wed | | 11 MB |
| Trojan War | | 14 MB |
| Robber Bridegroom | | 14 MB |
| Old Gunfighter | | 13 MB |
| Dodge Podge | | 11 MB |
| Dowager's Visit | | 15 MB |
| Gonif | | 14 MB |
| Medicine Man | | 7 MB |
| Luke's Law | | 12 MB |
| Cheyennes | | 14 MB |
| Indian Scout | | 14 MB |
| Meshougah | | 14 MB |
| The Old Lady | | 14 MB |
| The Indian Horse | | 12 MB |
| Categorical Imperative | | 12 MB |
| Custer | | 12 MB |
| Doc's Showdown | | 9 MB |
| Love of a Good Woman | | 14 MB |
| The Railroad (rehearsal) | | 13 MB |
| Melinda Miles | | 12 MB |
| Who Lives by the Sword | | 12 MB |
| Love of Money | | 12 MB |
| Another Man's Poison | | 11 MB |
| The Big Con | | 14 MB |
| Pokey Pete | | 13 MB |
| Big Girl Lost (reused script) | | 5 MB |
| Old Man's Gold | | 6 MB |
| Gun for Chester | | 12 MB |
| The Gambler | | 12 MB |
| Moo Moo Raid | | 12 MB |
| Sky | | 7 MB |
| Tall Trapper | | 8 MB |
| The Deserter | | 13 MB |
| Gunsmuggler | | 12 MB |
| The Mistake | | 14 MB |
| Mavis McCloud (Eleanor Tannin) | | 14 MB |
| Fabulous Silver Extender | | 14 MB |
| Lost Rifle | | 12 MB |
| What the Whisky Drummer Heard (James Nusser)(reused script) | | 6 MB |
| False Witness | | 10 MB |
| Reward for Matt | | 14 MB |
| 'Til Death Do Us | | 12 MB |
| Beeker's Barn (Ralph Moody) | | 12 MB |
| The Tragedian | | 12 MB |
| Wrong Man | | 14 MB |
| About Chester | | 12 MB |
| Dirt | | 14 MB |
| Helping Hand | | 14 MB |
| Laurie's Suitor | | 14 MB |
| Sunny Afternoon | | 12 MB |
| Cavalcade | | 14 MB |
| Child Labor | | 11 MB |
| Xmas Story | | 14 MB |
| The Man Who Would Be Marshal | | 12 MB |
| Busted Up Guns | | 11 MB |
| Spring Freshet | | 6 MB |
| Yorky | | 7 MB |
| Post Martin | | 14 MB |
| Fiery Arrest | | 12 MB |
| Sins Of The Fathers | | 9 MB |
| How to Sell a Ranch | | 12 MB |
| Crack-Up (John Dehner) | | 14 MB |
| The Kentucky Tolmans | | 14 MB |
| Word of Honor (reused script) | | 7 MB |
| Second Arrest | | 12 MB |
| Paid Killer | | 14 MB |
| Man and Boy | | 10 MB |
| Kitty's Quandary | | 14 MB |
| The Patsy | | 14 MB |
| Old Fool | | 12 MB |
| Stolen Horses | | 12 MB |
| Twelfth Night (Helen Kleeb)(reused script) | | 12 MB |
| Cholera | | 14 MB |
| Little Bird | | 10 MB |
| Indian Crazy | | 12 MB |
| Odd Man Out | | 12 MB |
| Greater Love (Vic Perrin)(reused script) | | 6 MB |
| Marshal Proudfoot | | 12 MB |
| Burning Wagon | | 9 MB |
| How to Kill a Woman (reused script) | | 7 MB |
| Unloaded Gun | | 12 MB |
| Miguel's Daughter | | 9 MB |
| I Don't Know | | 14 MB |
| Gun Shy | | 11 MB |
| Little Girl | | 12 MB |
| Obie Tater | | 14 MB |
| Quarter Horse | | 14 MB |
| Blood Money (Sam Edwards) | | 12 MB |
| Fawn | | 11 MB |
| Target | | 12 MB |
| Kitty Love | | 12 MB |
| The Queue (Ben Wright)(reused script) | | 6 MB |
| The Lamb | | 8 MB |
| Cow Doctor (Ray Kemper)(reused script) | | 6 MB |
| Tried It - Didn't Like It | | 10 MB |
| Grebb Hassle | | 10 MB |
| Drop Dead | | 14 MB |
| Westbound (reused script) | | 13 MB |
| Solomon River | | 14 MB |
| Murder Warrant | | 12 MB |
| Flashback | | 14 MB |
| Good Girl - Bad Company | | 12 MB |
| Sheep Dog | | 12 MB |
| The Round-Up | | 14 MB |
| Bad Seed | | 13 MB |
| Mavis McCloud (Barbara Eiler)(reused script) | | 6 MB |
| Blacksmith (Vic Perrin) | | 11 MB |
| Saddle Sore Sal | | 12 MB |
| Big Chugg Wilson | | 12 MB |
| Delia's Father | | 11 MB |
| Woman Called Mary | | 6 MB |
| Doc's Visitor | | 12 MB |
| The Rooks | | 9 MB |
| Johnny Red (Helen Kleeb)(reused script) | | 13 MB |
| One Night Stand | | 12 MB |
| Tail to the Wind | | 12 MB |
| Cain | | 14 MB |
| Gunshot Wound | | 12 MB |
| The Preacher | | 12 MB |
| The Square Triangle (reused script) | | 12 MB |
| Tacetta | | 15 MB |
| Bruger's Folly | | 12 MB |
| Nettie Sitton | | 12 MB |
| Last Fling | | 12 MB |
| Home Surgery (reused script) | | 7 MB |
| Tag, You're It | | 10 MB |
| Father and Son | | 10 MB |
| How to Cure a Friend | | 12 MB |
| The Photographer | | 12 MB |
| The Bottle Man | | 14 MB |
| Old Pal | | 12 MB |
| The Professor | | 14 MB |
| Smoking out the Beedles | | 14 MB |
| No Sale | | 12 MB |
| Scared Boy | | 8 MB |
| Livvie's Loss | | 11 MB |
| Young Love | | 14 MB |
| Never Pester Chester (Paul Dubov) | | 14 MB |
| Stage Holdup | | 12 MB |
| The Noose | | 12 MB |
| Minnie | | 9 MB |
| Braggart's Boy | | 12 MB |
| Pucket's New Year (reused script) | | 6 MB |
| Innocent Broad | | 14 MB |
| Bull | | 11 MB |
| Change of Heart | | 14 MB |
| Pal | | 11 MB |
| Gentlemen's Disagreement (reused script) | | 12 MB |
| Jayhawkers (reused script) | | 6 MB |
| Stage Snatch | | 12 MB |
| Pucket's New Year (reused script) | | 11 MB |
| The Gypsum Hills Feud | | 14 MB |
| Jealousy | | 14 MB |
| The Big Itch | | 14 MB |
| The Impostor | | 12 MB |
| Tap Day for Kitty | | 14 MB |
| Ozymandias | | 12 MB |
| Old Faces | | 12 MB |
| How to Die for Nothing (May 4th broadcast preempted)(reused script) | | 9 MB |
| Friend's Payoff | | 12 MB |
| The Buffalo Hunter (reused script) | | 12 MB |
| How to Die for Nothing | | 7 MB |
| Matt Gets It | | 14 MB |
| Where'd They Go? (reused script) | | 5 MB |
| Cavalcade (reused script) | | 13 MB |
| Dirt | | 14 MB |
| Doc Holiday | | 15 MB |
| Kitty's Kidnap | | 9 MB |
| Doubtful Zone | | 6 MB |
| Sarah's Search | | 12 MB |
| Legal Revenge | | 12 MB |
| Dooley Surrenders | | 14 MB |
| Tara | | 14 MB |
| Jaliscoe | | 14 MB |
| Cyclone | | 11 MB |
| Doc Judge | | 12 MB |
| Professor Lute Bone | | 12 MB |
| Young Man with a Gun | | 14 MB |
| Bless Me Till I Die | | 12 MB |
| The Mortgage | | 14 MB |
| Nina | | 12 MB |
| Belle's Back | | 12 MB |
| Doc Quits | | 14 MB |
| Kitty's Outlaw | | 12 MB |
| Robin Hood | | 14 MB |
| The Cast (reused script) | | 6 MB |
| Joe Phy | | 14 MB |
| Claustrophobia | | 12 MB |
| Don Mateo | | 12 MB |
| Cows and Cribs (Anne Morrison)(reused script) | | 10 MB |
| No Indians (Joseph Kearns) | | 14 MB |
| The Reed Survives (Michael Ann Barrett) | | 15 MB |
| The Brothers | | 15 MB |
| Hound Dog | | 11 MB |
| Man Hunter | | 12 MB |
| Body Snatch | | 13 MB |
| Trouble in Kansas | | 12 MB |
| Big Girl Lost | | 12 MB |
| Poor Pearl | | 14 MB |
| How to Kill a Friend | | 7 MB |
| Scared Kid | | 12 MB |
| Kick Me | | 8 MB |
| Spring Term | | 7 MB |
| Mr and Mrs Amber (Virginia Gregg)(reused script) | | 11 MB |
| The Partners | | 11 MB |
| Trapper's Revenge | | 6 MB |
| Hard Virtue | | 12 MB |
| The Proving Kid | | 10 MB |
| Skid Row | | 14 MB |
| Blue Horse | | 12 MB |
| Hot Horse Hyatt | | 12 MB |
| The Coward (Joseph Kearns)(reused script) | | 6 MB |
| The Guitar | | 12 MB |
| Distant Drummer | | 7 MB |
| Ben Tolliver's Stud (Les Crutchfield)(reused script) | | 8 MB |
| Incident at Indian Ford | | 12 MB |
| Ma Tennis | | 14 MB |
| Hack Prine | | 14 MB |
| Maw Hawkins | | 11 MB |
| Quarter Horse (reused script) | | 6 MB |
| The Trial (John Dehner) | | 14 MB |
| 20/20 | | 14 MB |
| Yorky (reused script) | | 6 MB |
| The Lady Killer | | 11 MB |
| Colleen So Green | | 11 MB |
| Passive Resistance | | 12 MB |
| The Second Choice | | 12 MB |
| Amy's Good Deed | | 12 MB |
| Confederate Money | | 12 MB |
| The Squaw | | 11 MB |
| Trust | | 14 MB |
| Old Friend | | 12 MB |
| No Indians | | 7 MB |
| The Margin | | 9 MB |
| The Badge | | 12 MB |
| The Piano | | 11 MB |
| The Boughten Bride | | 14 MB |
| Fall Semester | | 7 MB |
| Hard Lesson | | 12 MB |
| The Tumbleweed | | 12 MB |
| Dirty Bill's Girl | | 12 MB |
| Thoroughbreds | | 14 MB |
| Joe Phy | | 15 MB |
| Second Son | | 12 MB |
| Cooter | | 11 MB |
| Marryin' Bertha | | 7 MB |
| Professor Lute Bone (reused script) | | 7 MB |
| Saludos | | 12 MB |
| Ben Tolliver's Stud (Norman Macdonnell) | | 14 MB |
| Jesse | | 14 MB |
| Hanging Man | | 12 MB |
| Land Deal | | 12 MB |
| Bear Trap | | 12 MB |
| Moon | | 7 MB |
| The Bobsy Twins | | 12 MB |
| Alarm at Pleasant Valley | | 14 MB |
| Jailbait Janet (reused script) | | 14 MB |
| Kitty | | 14 MB |
| Ugly | | 12 MB |
| Letter of the Law (Vic Perrin)(reused script) | | 11 MB |
| Shooting Stopover | | 14 MB |
| The Stallion | | 12 MB |
| The Constable (Barlett Robinson)(reused script) | | 6 MB |
| The Peace Officer | | 6 MB |
| Ma's Justice | | 11 MB |
| Doc's Reward | | 12 MB |
| Kitty's Injury | | 9 MB |
| Cherry Red | | 12 MB |
| Horse Deal | | 14 MB |
| Laughing Gas | | 11 MB |
| Home Surgery | | 14 MB |
| Chester's Inheritance | | 12 MB |
| Joe Sleet | | 11 MB |
| Kite's Reward | | 14 MB |
| Westbound | | 14 MB |
| Wrong Man | | 12 MB |
| The Sutler | | 14 MB |
| Snakebite | | 12 MB |
| The Reed Survives (Lynn Allen)(reused script) | | 7 MB |
| Why Not | | 11 MB |
| The Peace Officier | | 12 MB |
| Twelfth Night (December 22 broadcast pre-empted) (Virginia Gregg)(reused script) | | 6 MB |
| How to Kill a Woman | | 12 MB |
| Dave's Lesson | | 12 MB |
| Old Flame | | 11 MB |
| Print Asper | | 14 MB |
| The Buffalo Hunter (reused script) | | 5 MB |
| Line Trouble | | 11 MB |
| The Lynching | | 14 MB |
| Cows and Cribs (Jeanette Nolan) | | 12 MB |
| Indian White | | 14 MB |
| The Constable | | 12 MB |
| Word of Honor | | 14 MB |
| One for Lee | | 12 MB |
| Emma's Departure | | 14 MB |
| Daddy-O (John McIntire) | | 12 MB |
| Indian Baby | | 12 MB |
| A House Ain't a Home | | 12 MB |
| Hangman's Mistake | | 12 MB |
| Kitty's Rebellion | | 9 MB |
| Monopoly | | 12 MB |
| Buffalo Killers | | 14 MB |
| Paid Killer (reused script) | | 11 MB |
| Sundown | | 14 MB |
| Cheap Labor | | 12 MB |
| The Army Trial | | 14 MB |
| Greater Love (John Dehner) | | 6 MB |
| Barton Boy | | 14 MB |
| Rock Bottom | | 6 MB |
| Sweet and Sour | | 10 MB |
| Crowbait Bob (Nov 4th broadcast preempted) | | 12 MB |
| Crack-Up | | 12 MB |
| Kitty Caught (James Nusser)(reused script) | | 5 MB |
| The Soldier | | 14 MB |
| Unwanted Deputy | | 14 MB |
| Indian | | 12 MB |
| Stage Smash | | 12 MB |
| Cooter (John Dehner) | | 14 MB |
| Sunday Supplement | | 12 MB |
| Hellbent Harriet | | 9 MB |
| Matt for Murder | | 14 MB |
| Grass | | 14 MB |
| Kitty's Killing | | 12 MB |
| The Grass Asp | | 9 MB |
| Kitty's Good Neighboring | | 11 MB |
| The Liar from Blackhawk | | 14 MB |
| Joke's on Us | | 12 MB |
| The Boots | | 14 MB |
| Big Hands | | 11 MB |
| Where'd They Go? | | 9 MB |
| The Wake | | 12 MB |
| The New Hotel | | 12 MB |
| Spring Term | | 14 MB |
| Potato Road | | 14 MB |
| The Bear | | 7 MB |
| Carmen | | 15 MB |
| The Joke's on Us (reused script) | | 4 MB |
| The Cook | | 11 MB |
| Newsma'am | | 14 MB |
| Big Tom | | 7 MB |
| Bloody Hands (Alafraganza) | | 14 MB |
| Annie Oakley | | 12 MB |
| Box O' Rocks | | 12 MB |
| The Mortgage (reused script) | | 12 MB |
| Going Bad | | 12 MB |
| The Brothers (different story than 52-09-06) | | 12 MB |
| Impact | | 9 MB |
| Hero's Departure | | 11 MB |
| Kitty Caught (Lawrence Dobkin) | | 14 MB |
| Never Pester Chester | | 13 MB |
| The Choice (reused script) | | 6 MB |
| Chester's Hanging | | 14 MB |
| Johnny Red (Virginia Gregg) | | 14 MB |
| Hinka-Do (reused script) | | 11 MB |
| Devil's Hindmost | | 11 MB |
| Gone Straight | | 7 MB |
| Jedro's Woman | | 12 MB |
| Buffalo Man | | 12 MB |
| Chester's Murder | | 14 MB |
| Cara | | 12 MB |
| Bloody Hands (Long Branch)(reused script) | | 12 MB |
| Ex-Urbanites | | 12 MB |
| The Trial (Joseph Kearns)(reused script) | | 11 MB |
| Matt's Decision | | 6 MB |
| Blood Money (John Dehner)(reused script) | | 10 MB |
| Feud | | 12 MB |
| Personal Justice | | 12 MB |
| Chester's Choice | | 11 MB |
| How to Kill a Friend (reused script) | | 5 MB |
| Chicken Smith | | 10 MB |
| Jud's Woman | | 12 MB |
| Trojan War (reused script) | | 12 MB |
| Born to Hang (Joseph Kearns) | | 14 MB |
| Bringing Down Father | | 12 MB |
| Cow Doctor (Tom Hanley) | | 14 MB |
| The F. U. | | 14 MB |
| Kitty Lost | | 14 MB |
| Cain (reused script) | | 15 MB |
| Old Beller | | 11 MB |
| Beeker's Barn (Joseph Kearns)(reused script) | | 12 MB |
| Bad Boy | | 12 MB |
| Sweet and Sour (Harry Bartell) | | 12 MB |
| Custer (reused script) | | 6 MB |
| Bureaucrat | | 12 MB |
| Chester's Dilemma | | 12 MB |
| Brush at Elkader (James Nusser) | | 12 MB |
| Romeo | | 12 MB |
| Pucket's New Year (James Nusser) | | 12 MB |
| The Killer | | 12 MB |
| The Correspondent | | 9 MB |
| Reluctant Violence | | 13 MB |
| Brother Whelp | | 12 MB |
| Kitty Accused | | 14 MB |
| Speak to Me Fair | | 12 MB |
| Magnus | | 8 MB |
| The Queue (Edgar Barrier) | | 14 MB |
| The Pacifist | | 12 MB |
| What the Whisky Drummer Heard (Edgar Barrier) | | 6 MB |
| Bum's Rush | | 14 MB |
| Big Broad | | 12 MB |
| Chester's Rendezvous | | 11 MB |
| Target - Chester | | 9 MB |
| The Square Triangle | | 14 MB |
| Real Sent Sonny | | 12 MB |
| Hinka-Do | | 14 MB |
| Lochinvar | | 14 MB |
| Looney McCluny | | 10 MB |
| Uncle Oliver | | 14 MB |
| Jayhawkers | | 14 MB |
| Cold Fire | | 10 MB |
| The Executioner | | 12 MB |
| Thick 'n' Thin | | 12 MB |
| The Coward (Vic Perrin) | | 12 MB |
| Kick Me (reused script) | | 5 MB |
| Daddy-O (John Dehner)(reused script) | | 12 MB |
| The Choice (Lawrence Dobkin) | | 12 MB |
| Jobe's Son | | 11 MB |
| Pretty Mama | | 12 MB |
| Shakespeare | | 15 MB |
| Dutch George | | 12 MB |
| Overland Express | | 14 MB |
| Carmen (reused script) | | 7 MB |
| Widow's Mite | | 12 MB |
| Born to Hang | | 7 MB |
| Kangaroo | | 12 MB |
| The Wolfer | | 14 MB |
| Mr. and Mrs. Amber (Helen Kleeb) | | 12 MB |
| Brush at Elkader (James Westerfield)(reused script) | | 5 MB |
| Doc's Indians | | 12 MB |
| The Cover Up | | 12 MB |
| Bone Hunters | | 14 MB |
| Long as I Live | | 8 MB |
| The Blacksmith (Barney Phillips)(reused script) | | 6 MB |
| Dangerous Bath | | 12 MB |
| Groat's Grudge | | 12 MB |
| The Surgery | | 12 MB |
| Grass (reused script) | | 8 MB |
| The Promise aka The Handcuffs | | 14 MB |
| Harriet | | 12 MB |
| Chester's Mistake | | 12 MB |
| The Sod-Buster | | 11 MB |