The Great Gildersleeve - 38 Mp3 Downloads Available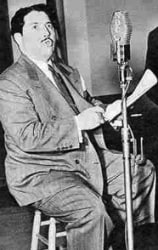 The Great Gildersleeve (1941-1957), initially written by Leonard Lewis Levinson, was one of broadcast history's earliest spin-off programs. Built around Throckmorton P. Gildersleeve, a character who had been a staple on the classic radio situation comedy Fibber McGee and Molly, The Great Gildersleeve enjoyed its greatest success in the 1940s. Actor Harold Peary played the character during its transition from the parent show into the spin-off and later in a quartet of feature films released at the height of the show's popularity.

On Fibber McGee and Molly, Peary's Gildersleeve was a pompous windbag who became a consistent McGee nemesis. "You're a haa-aa-aa-aard man, McGee!" became a Gildersleeve catch phrase. The character was given several conflicting first names on Fibber McGee and Molly, and on one episode his middle name was revealed as Philharmonic. Gildy admits as much at the end of "Gildersleeve's Diary" on the Fibber McGee and Molly series (10/22/40).

He soon became so popular that Kraft Foods - looking primarily to promote its Parkay margarine spread - sponsored a new series with Peary's Gildersleeve as the central, slightly softened, and slightly befuddled focus of a lively new family.
Available Episodes
| Episode Title | Broadcast Date | File Size |
| --- | --- | --- |
| Arrives In Summerfield | Aug 31, 1941 | 6.82 MB |
| Audition Program | May 16, 1941 | 7.74 MB |
| Marjories Cake | Sep 07, 1941 | 6.82 MB |
| Leroys Paper Route | Sep 14, 1941 | 6.82 MB |
| Marjories Girlfriend Visits | Sep 21, 1941 | 6.78 MB |
| Hiccups | Sep 28, 1941 | 6.82 MB |
| Investigating the City Jail | Oct 05, 1941 | 6.61 MB |
| School Pranks | Oct 19, 1941 | 6.82 MB |
| A Visit from Oliver | Oct 26, 1941 | 6.82 MB |
| Minding the Baby | Nov 02, 1941 | 6.82 MB |
| Birdie Quits | Nov 09, 1941 | 6.79 MB |
| Serviceman for Thanksgiving | Nov 16, 1941 | 6.82 MB |
| Leroy Smokes a Cigar | Nov 23, 1941 | 6.82 MB |
| Canary Wont Sing | Nov 30, 1941 | 6.82 MB |
| Cousin Octavia Visits | Dec 07, 1941 | 6.43 MB |
| Iron Reindeer | Dec 14, 1941 | 6.68 MB |
| Christmas Gift for Mcgee | Dec 21, 1941 | 6.82 MB |
| Gildys Diet | Jan 04, 1942 | 6.27 MB |
| Arrested As a Car Thief | Jan 11, 1942 | 6.82 MB |
| A New Bed for Marjorie | Jan 18, 1942 | 6.82 MB |
| The Matchmaker | Jan 25, 1942 | 6.81 MB |
| Leroy Runs Away | Feb 01, 1942 | 6.82 MB |
| Auto Mechanics | Feb 08, 1942 | 6.81 MB |
| Selling the Drug Store | Feb 22, 1942 | 6.82 MB |
| The Fortune Teller | Mar 01, 1942 | 6.82 MB |
| Ten Best Dressed | Mar 15, 1942 | 6.82 MB |
| New Neighbors | Mar 22, 1942 | 5.87 MB |
| Letters to Servicemen | Mar 29, 1942 | 6.78 MB |
| Leroy Sells Seeds | Apr 19, 1942 | 6.82 MB |
| Gildys Goat Horace | Apr 26, 1942 | 6.81 MB |
| Liberty Ship Christening | May 03, 1942 | 6.80 MB |
| Mystery Singer | May 10, 1942 | 6.82 MB |
| The Manganese Mine | May 17, 1942 | 6.82 MB |
| Testimonial Dinner for Judge | May 31, 1942 | 6.82 MB |
| The Sneezes | Jun 07, 1942 | 6.82 MB |
| Summer Theater | Jun 14, 1942 | 6.83 MB |
| Fathers Day Chair | Jun 21, 1942 | 6.82 MB |
| Wooing Amelia Hooker | Jun 28, 1942 | 6.82 MB |