Gang Busters - 19 Mp3 Downloads Available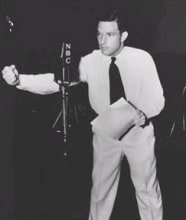 Gang Busters was an American dramatic radio program heralded as "the only national program that brings you authentic police case histories." It premiered as G-Men, sponsored by Chevrolet, on July 20, 1935.

After the title was changed to Gang Busters January 15, 1936, the show had a 21-year run through November 20, 1957. Beginning with a barrage of loud sound effects guns firing and tires squealing this intrusive introduction led to the popular catch phrase "came on like Gang Busters."

The series dramatized FBI cases, which producer-director Phillips H. Lord arranged in close association with Bureau director J. Edgar Hoover. Hoover insisted that only closed cases would be used.

The initial series was on NBC Radio from July 20 - October 12, 1935. It then aired on CBS from January 15, 1936 to June 15, 1940, sponsored by Colgate-Palmolive and Cue magazine. From October 11, 1940 to December 25, 1948, it was heard on the Blue Network, with various sponsors that included Sloan's Liniment, Waterman pens and Tide. Returning to CBS on January 8, 1949, it ran until June 25, 1955, sponsored by Grape-Nuts and Wrigley's chewing gum. The final series was on the Mutual Broadcasting System from October 5, 1955 to November 27, 1957. It was once narrated by Norman Schwarzkopf, Sr., former head of the New Jersey State Police.

The radio series was adapted for DC Comics, Big Little Books and a 1942 movie serial. The 1952 Gang Busters TV series was reedited into two feature films, Gang Busters (1954) and Guns Don't Argue (1957).