Fort Laramie - 41 Mp3 Downloads Available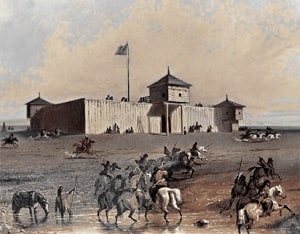 Fort Laramie was a radio Western series that aired Sundays on CBS from January 22 - October 28, 1956.

Produced and directed by Norman Macdonnell, this Western drama depicted life at old Fort Laramie during the 19th Century. The 40 episodes starred Raymond Burr as Lee Quince, captain of the cavalry. One year later, Burr became a television star as Perry Mason.

Supporting regulars included Vic Perrin as Sgt. Gorse, Harry Bartell as the slightly green Lt. Seiberts and Jack Moyles as Major Daggett. Heard on a more irregular basis were Howard McNear as Pliny the fort sutler, Sam Edwards as Trooper Harrison, and in a variety of roles, such actors as John Dehner, John McIntire, Virginia Gregg, James Nusser, Parley Baer and Barney Phillips. Amerigo Marino supplied the music.
Available Episodes
| Episode Title | Broadcast Date | File Size |
| --- | --- | --- |
| Army Wife | Oct 28, 1956 | 12 MB |
| Indian Scout | Oct 21, 1956 | 12 MB |
| Still Waters | Oct 14, 1956 | 12 MB |
| Galvanized Yankee | Oct 07, 1956 | 12 MB |
| A Small Beginning | Sep 30, 1956 | 14 MB |
| The Woman at Horse Creek | Sep 23, 1956 | 16 MB |
| The Payroll | Sep 16, 1956 | 15 MB |
| The Buffalo Hunters | Sep 09, 1956 | 14 MB |
| The Return of Hattie Pelfrey | Sep 02, 1956 | 14 MB |
| The Chaplain | Aug 26, 1956 | 14 MB |
| Goodbye Willa | Aug 19, 1956 | 14 MB |
| The Assembly Line | Aug 12, 1956 | 14 MB |
| The Massacre | Aug 05, 1956 | 14 MB |
| Nature Boy | Jul 29, 1956 | 14 MB |
| Spotted Tail's Return | Jul 22, 1956 | 14 MB |
| Old Enemy | Jul 15, 1956 | 14 MB |
| Talented Recruits | Jul 08, 1956 | 14 MB |
| Trooper's Widow | Jul 01, 1956 | 14 MB |
| The Loving Cup | Jun 24, 1956 | 14 MB |
| Young Trooper | Jun 10, 1956 | 14 MB |
| Winter Soldier | Jun 17, 1956 | 14 MB |
| Don't Kick My Horse | Jun 03, 1956 | 14 MB |
| Gold | May 20, 1956 | 15 MB |
| Sergeant's Baby | May 27, 1956 | 14 MB |
| War Correspondents | May 13, 1956 | 15 MB |
| Never the Twain | May 06, 1956 | 14 MB |
| Capture | Apr 29, 1956 | 14 MB |
| The New Recruit | Apr 22, 1956 | 14 MB |
| Lost Child | Apr 01, 1956 | 14 MB |
| Stage Coach Stop | Apr 15, 1956 | 14 MB |
| The Coward | Mar 25, 1956 | 14 MB |
| The Beasley Girls | Mar 18, 1956 | 14 MB |
| Hattie Pelfrey | Mar 11, 1956 | 14 MB |
| Shavetail | Mar 04, 1956 | 14 MB |
| Captain's Widow | Feb 26, 1956 | 14 MB |
| Boredom | Feb 19, 1956 | 14 MB |
| The Woman at Horse Creek | Feb 12, 1956 | 14 MB |
| The Boatwright's Story | Jan 29, 1956 | 14 MB |
| Squaw Man | Feb 05, 1956 | 14 MB |
| Playing Indian | Jan 22, 1956 | 14 MB |
| Audition | Jul 25, 1955 | 15 MB |