The First Nighter Program - 4 Mp3 Downloads Available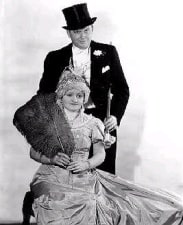 The listener is taken to "the little theater off Times Square" to be part of the "opening night performance" of drama and comedy. All the illusions of Broadway were heard during the opening of each broadcast. Taxi horns, the sounds of crowded sidewalks, police whistles, etc. Into the theater the listener overheard all the sounds of the curtain going up, and after a quick reading of the program, the production for the evening. The First Nighter was a very popular program for 23 years.

Left: First Nighter leading man Charles P. Hughes and leading lady June Merideth. According to the NBC Archives, the picture was taken in March of 1933-somewhat more than two years into the show's run.