Father Knows Best - 20 Mp3 Downloads Available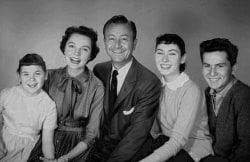 Father Knows Best, a popular American radio and television sitcom of the 1950s and 1960s, portrayed an idealized vision of middle class American life of the era. It was created by writer Ed James, who made an audition disc on December 20, 1948. On the audition disc, the father is known as Jim Henderson rather than Jim Anderson.

Eight months later, the series began August 25, 1949, on NBC Radio. Set in the Midwest, it starred Robert Young as General Insurance agent Jim Anderson. His wife Margaret was first portrayed by June Whitley and later by Jean Vander Pyl. The Anderson children were Betty (Rhoda Williams), Bud (Ted Donaldson) and Kathy (Norma Jean Nillson). Others in the cast were Eleanor Audley, Herb Vigran and Sam Edwards. Sponsored by General Foods, the series was heard Thursday evenings on NBC until November 19, 1953.

While the show is often regarded as an example of the conservative and paternalistic nature of American family life in the 1950s, it is also cited as an overly rosy portrayal of American family life.

A feature-length live-action movie remake starring Tim Allen was announced by Paramount Pictures and Nickelodeon Movies for theatrical release in 2008.
Available Episodes
| Episode Title | Broadcast Date | File Size |
| --- | --- | --- |
| The Elusive Card Game | Jan 12, 1950 | 6.69 MB |
| An Uncontrolled Dog | May 04, 1950 | 6.71 MB |
| The Golf Challenge | May 11, 1950 | 3.04 MB |
| Betty's Screen Test | May 18, 1950 | 6.73 MB |
| Superstitious Folk | May 25, 1950 | 6.72 MB |
| Picnic for Fathers Day | Jun 15, 1950 | 6.71 MB |
| Time for a New Car | Jun 08, 1950 | 6.71 MB |
| A New Housekeeper | Jun 22, 1950 | 6.74 MB |
| New Arrangements | Jun 29, 1950 | 6.75 MB |
| Vacation Arrives | Jul 06, 1950 | 6.76 MB |
| Family Car Stolen | Sep 14, 1950 | 6.74 MB |
| Who Has the Time | Sep 21, 1950 | 6.77 MB |
| The New Girl Friend | Sep 28, 1950 | 6.77 MB |
| Family Spending | Oct 05, 1950 | 6.71 MB |
| The Skunk Must Go | Oct 12, 1950 | 6.76 MB |
| Too Many Problems | Nov 02, 1950 | 6.70 MB |
| The Bad Barbecue | Nov 09, 1950 | 6.73 MB |
| Aunt Thelma Visits | Feb 05, 1953 | 6.73 MB |
| Remembering Names | Sep 10, 1953 | 6.75 MB |
| New Years Sitter | Dec 31, 1953 | 6.65 MB |