The Falcon - 98 Mp3 Downloads Available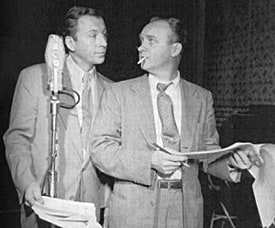 The Falcon radio series premiered on the American Blue Network in April 1943 and continued on the air till around September 1952.

The introduction to the show began with "The Adventures of the Falcon." Then continuing with a ringing phone call to the Falcon, also known as Michael Waring, from a woman in which her voice is never heard. He would reply to her and another adventure would follow. Waring was snappy and sarcastic with the incompetent police who were inevitably unable to solve the mysteries without his help. Like the films, the radio plots mixed danger, romance and comedy in equal parts.

About 70 episodes where created. The Falcon had many voices acting his part, beginning with Barry Kroeger. James Meighan later became the voice of the Falcon followed by Les Tremayne, George Petrie, and Les Damon.
Available Episodes
| Episode Title | Broadcast Date | File Size |
| --- | --- | --- |
| Murder is a Knock-Out | Feb 20, 1949 | 13 MB |
| The Case of the Quarrelsome Quartet | Sep 03, 1950 | 14 MB |
| The Case of the Practical Choker | Feb 25, 1951 | 13 MB |
| The Case of the Shopkeepers Gun | Apr 15, 1951 | 13 MB |
| The Case of the Flaming Club | May 06, 1951 | 14 MB |
| The Case of the Broken Key | Jul 24, 1952 | 13 MB |
| Rolling Stones | Aug 07, 1952 | 6.79 MB |
| Friendly Target | | 5.71 MB |
| Murder Is A Grave Situation | Dec 04, 1945 | 5.40 MB |
| Murder Is a Family Affair | Nov 27, 1945 | 14 MB |
| Murder Is A Bad Bluff | Nov 01, 1948 | 13 MB |
| The Case of the Amorous Bookkeeper | May 14, 1950 | 14 MB |
| The Case of the Disappearing Doll | Aug 30, 1950 | 12 MB |
| The Case of the Quarrelsome Quartet | Sep 03, 1950 | 6.13 MB |
| The Case of the Careless Client | Oct 15, 1950 | 13 MB |
| The Case of the Double Nephews | Oct 22, 1950 | 13 MB |
| The Case of the Double Exposure | Oct 29, 1950 | 13 MB |
| The Case of the Rich Racketeer | Nov 05, 1950 | 13 MB |
| The Case of the Widows Gorilla | Nov 12, 1950 | 13 MB |
| The Case of the Puzzling Pinup | Nov 19, 1950 | 13 MB |
| The Case of the Stooges Errand | Nov 26, 1950 | 13 MB |
| The Case of the Harried Husband | Dec 03, 1950 | 13 MB |
| The Case of the Baby Brother | Dec 17, 1950 | 13 MB |
| The Case of the Raw Deal | Dec 10, 1950 | 13 MB |
| The Case of the Unwelcome Christmas Present | Dec 24, 1950 | 5.75 MB |
| The Case of the Talented Twins | | 5.74 MB |
| Friendly Target | | 5.71 MB |
| Larcenous Lark | | 5.40 MB |
| Worried Champion | | 5.87 MB |
| The Case of the Invisible Thug | Jan 07, 1951 | 11 MB |
| The Case of the Substitute Target | Jan 21, 1951 | 8.76 MB |
| The Case of the Happy Hoodlum | Jan 14, 1951 | 14 MB |
| The Case of the Bellicose Boxer | Jan 28, 1951 | 11 MB |
| The Case of the Neighbors Nightmare | Feb 04, 1951 | 13 MB |
| The Case of the Superfluous Murder | Feb 18, 1951 | 13 MB |
| The Case of the Mighty Muscle | Feb 11, 1951 | 11 MB |
| The Case of the Practical Joker | Feb 25, 1951 | 6.76 MB |
| The Case of the Gangsters Girl | Mar 04, 1951 | 14 MB |
| The Case of the Un-Silent Butler | Mar 11, 1951 | 11 MB |
| The Case of the Witty Widow | Mar 18, 1951 | 6.58 MB |
| The Case of the Talented Texan | Mar 25, 1951 | 5.74 MB |
| The Case of the Worried Wife | Apr 01, 1951 | 13 MB |
| The Case of the Carved Ham | Apr 08, 1951 | 11 MB |
| The Case of the Shopkeepers Gun | Apr 15, 1951 | 6.50 MB |
| The Case of the Flaming Club | May 06, 1951 | 5.61 MB |
| The Case of the Missing Miss | Apr 22, 1951 | 13 MB |
| The Case of the Big Talker | Apr 29, 1951 | 13 MB |
| The Case of the Dutch Doll | May 13, 1951 | 13 MB |
| The Case of the Unwelcome Wife | May 27, 1951 | 14 MB |
| The Case of the Proud Papa | Jun 06, 1951 | 5.66 MB |
| The Case of the Curious Cop | May 20, 1951 | 14 MB |
| The Case of the Broken Fingerprint | Jun 20, 1951 | 11 MB |
| The Case of the Sweet Swindle | Jun 13, 1951 | 14 MB |
| The Case of the Nervous Shakedown | Jun 27, 1951 | 11 MB |
| The Case of Everybody's Gun | Jul 04, 1951 | 14 MB |
| The Case of the Vanishing Varmint | Jul 11, 1951 | 14 MB |
| The Case of the Cautious Cousin | Jul 18, 1951 | 11 MB |
| The Case of the Bashful Boss | Aug 08, 1951 | 6.68 MB |
| The Case of the Plenty Twenty | Jul 25, 1951 | 13 MB |
| The Case of the Hypocritical Patient | Aug 01, 1951 | 14 MB |
| The Case of the Loose Lip | Aug 15, 1951 | 9.96 MB |
| The Case of the Beautiful Bait | Aug 22, 1951 | 11 MB |
| The Case of the Mighty Muscle | Nov 22, 1951 | 5.75 MB |
| The Case of the Unwelcome Christmas Gift | Dec 20, 1951 | 6.08 MB |
| The Case Of The Invisible Thug | Jan 31, 1952 | 5.50 MB |
| The Case of the Missing Patient | Feb 14, 1952 | 12 MB |
| The Case of the Gold Ring | Feb 21, 1952 | 10 MB |
| The Case of the Natural Seven | Feb 28, 1952 | 12 MB |
| The Case of the Killers Key | Mar 06, 1952 | 13 MB |
| The Case of the Grand Gamble | Mar 13, 1952 | 12 MB |
| The Case of the Strong Sister | Mar 27, 1952 | 5.71 MB |
| The Case of the Murdering Misses | Mar 20, 1952 | 12 MB |
| The Case of the Deadly Dame | Apr 03, 1952 | 6.04 MB |
| The Case of the Handy Helpmate | Apr 10, 1952 | 13 MB |
| The Case of the Jumping Jack | Apr 17, 1952 | 13 MB |
| The Case of the Weeping Willow | Apr 24, 1952 | 9.66 MB |
| The Case of the Fatal Fix | May 01, 1952 | 6.88 MB |
| The Case of the King of Hearts | May 08, 1952 | 12 MB |
| The Case of the Falling Star | May 15, 1952 | 12 MB |
| The Case of the Happy Hoodlum | May 22, 1952 | 12 MB |
| The Case of the Burning Bridges | May 29, 1952 | 9.81 MB |
| The Case of the Dirty Dollars | Jun 05, 1952 | 5.95 MB |
| The Case of the Vanishing Visa | Jun 19, 1952 | 5.99 MB |
| The Case of the Menacing Mamselle | Jun 26, 1952 | 6.15 MB |
| The Case of the Babbling Brooks | Jul 03, 1952 | 13 MB |
| The Case of the Running Waters | Jul 10, 1952 | 6.97 MB |
| The Case of the King of Clubs | Jul 17, 1952 | 13 MB |
| The Case of the Lonely Hunter | Jul 31, 1952 | 6.37 MB |
| The Case of the Rolling Stones | Aug 07, 1952 | 7.18 MB |
| The Case of the Gorgeous Greek | Aug 14, 1952 | 9.51 MB |
| The Case of the Silent Butler | Aug 21, 1952 | 6.16 MB |
| The Case of the Careless Corpse | Aug 28, 1952 | 6.00 MB |
| The Case of the Jack of Diamonds | Sep 07, 1952 | 6.40 MB |
| The Case of the Strawberry Blond | Sep 14, 1952 | 6.25 MB |
| Faded Rose Poor | | 5.60 MB |
| The Case Of The Wandering Wife | | 4.88 MB |
| The Case of the Ace Of Spades | | 7.51 MB |
| The Case of the Disguised Murderer | | 7.22 MB |