The Eddie Arnold Show - 2 Mp3 Downloads Available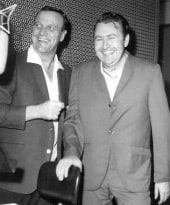 Born Richard Edward Arnold in Henderson, Tennessee, he made his first radio appearance in 1936. During his childhood, he lost both his father and the family farm. When he turned 18 he left home to try to make his mark in the music world.

Arnold's formative musical years included early struggles to gain recognition until he landed a job as the lead male vocalist for the Pee Wee King band. By 1943, Arnold had become a solo star on the Grand Ole Opry. He was then signed by RCA Victor. In December of 1944, he cut his first record. Although all of his early records sold well, his initial big hit did not come until 1946 with "That's How Much I Love You." In common with many other country and western singers of the time, he had a folksy nickname: "The Tennessee Plowboy."

Managed by Col. Tom Parker (who later went on to control the career of Elvis Presley), Arnold began to dominate country music. In 1947-48 he had 13 of the top 20 songs. He successfully made the transition from radio to television, appearing frequently in the new medium. In 1955, he upset many in the country music establishment by going to New York to record with the Hugo Winterhalter Orchestra. The pop-oriented arrangements of "Cattle Call" and "The Richest Man (In the World)", however, helped to expand his appeal beyond its country base.

With the advent of rock and roll, Arnold's record sales dipped in the late 1950s. Along with RCA Victor label-mate Jim Reeves, he continued to try to court a wider audience by using pop-sounding, string-laced arrangements, a style that would come to be known as the Nashville sound.