A Date with Judy - 13 Mp3 Downloads Available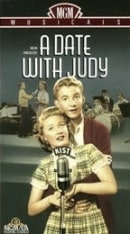 A Date with Judy was an American radio program during the 1940s. It was a teenage comedy that began as a summer replacement for Bob Hope's show, sponsored by Pepsodent and airing on NBC from June 24 to September 16, 1941, with 14-year-old Ann Gillis in the title role. Dellie Ellis portrayed Judy when the series returned the next summer (June 23-September 15, 1942). Louise Erickson took over the role the following summer (June 30'-September 22, 1943) when the series, sponsored by Bristol Myers, replaced The Eddie Cantor Show.

Louise Erickson continued as Judy for the next seven years, as the series, sponsored by Tums, aired from January 18, 1944 to January 4, 1949. As the popularity of the radio series peaked, Jane Powell starred as Judy in the MGM movie, A Date with Judy (1948). Co-starring with Powell were Elizabeth Taylor, Wallace Beery, Robert Stack, and Carmen Miranda.

Ford Motors and Revere Cameras were the sponsors for the final season of the radio series on ABC from October 13, 1949 to May 25, 1950.

A Date with Judy was also a comic book (based on the radio program) published by National Periodical Publications from October-November 1947 to October-November 1960.
Available Episodes
| Episode Title | Broadcast Date | File Size |
| --- | --- | --- |
| Aunt Lilly Needs a Date | Aug 11, 1942 | 6.87 MB |
| Father's Birthday | Aug 01, 1944 | 4.9 MB |
| The Strange Case of Joseph Cotton | Feb 06, 1945 | 5.31 MB |
| Going to a Frank Sinatra Movie | Mar 20, 1945 | 6.75 MB |
| Judy's Father Tries to Go to Bed Early | Apr 09, 1946 | 4.91 MB |
| New Dress for the Dance | May 18, 1946 | 6.87 MB |
| The Racetrack | Sep 24, 1946 | 6.93 MB |
| Gregory Hickson Lecture | Oct 22, 1946 | 6.9 MB |
| Judy and Oogie Have a Date At the Movies | Feb 18, 1947 | 7.2 MB |
| Playing Hooky | May 04, 1948 | 6.87 MB |
| High School Hot Shots' Get a Job | Nov 03, 1949 | 6.79 MB |
| A New Dress For The Dance | May 18, 1946 | 6.85 MB |
| Judy's Party | Jan 23, 1945 | 6.94 MB |