Cathy and Elliott Lewis On Stage - 12 Mp3 Downloads Available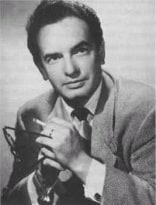 After working together for years on such shows as Suspense, and Sam Spade, Cathy and Elliot Lewis created On Stage in 1953. Two of the busiest people on the air, they were known as "Mr. and Mrs. Radio."

On Stage provides a hodge podge of both classics and original stories, including mystery, drama, comedy, satire, and adventure. Although created at a time when radio was going out of style, On Stage is evidence of how good old time radio shows can be. With fewer constraints and less pressure due to the lack of financially-driven scripts, the Lewis duo let their creativity and talent explode into one of the greatest anthology shows of all time.
Available Episodes
| Episode Title | Broadcast Date | File Size |
| --- | --- | --- |
| Candide | Dec 16, 1953 | 5.07 MB |
| Circle of Wheels | Nov 18, 1953 | 6.28 MB |
| Ideal Couple | Jun 18, 1953 | 6.76 MB |
| Statement of Fact | May 14, 1953 | 6.77 MB |
| The Bear | May 07, 1953 | 6.81 MB |
| Bunch of Violets | Apr 02, 1953 | 6.71 MB |
| Dig the Thief | Mar 26, 1953 | 6.65 MB |
| Eddie | Mar 19, 1953 | 6.67 MB |
| Call me a Cab | Mar 12, 1953 | 6.88 MB |
| Fifth of Tears | Feb 26, 1953 | 6.69 MB |
| Public Furlough | Jan 29, 1953 | 6.71 MB |
| The String Bow Tie | Jan 01, 1953 | 6.70 MB |