CBS Radio Mystery Theater CBSRMT - 32 Mp3 Downloads Available

The CBS Radio Mystery Theater (or CBSRMT) was created by Himan Brown and ran from January 6, 1974 till the final episode December 31, 1982. Himan Brown was known as a legend for his work on Inner Sanctum Mysteries, The Adventures of Nero Wolfe, and many other shows dating back to the 1930's. The creation of CBSRMT was an attempt in the 1970s to revive the great drama of old-time radio.

The show aired on affiliate stations across the CBS Radio network and was broadcast nightly, running for one hour, including news and commercials. Typically, a week consisted of three to four new episodes, with the remainder of the week filled out with reruns. There were 1,399 original episodes and 2,969 total broadcasts including all of the reruns.

The format was similar to that of classic old time radio shows such as The Mysterious Traveler and The Whistler, in that there is a host, E.G. Marshall, who introduces each episode and provides pithy wisdom throughout; but, unlike the hosts of those shows, Marshall is fully mortal, merely someone whose heightened insight and erudition plunge the listener into the world of the macabre.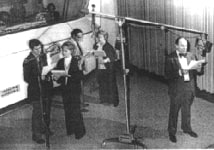 The show began with the ominous sound of a creaking door, slowly opening to invite listeners in for the evening's adventure, accompanied by Marshall's disturbing intonation of, "Come in! ... Welcome; I am E.G. Marshall." At the end of each show, the door would creak and slam shut, followed by Marshall's classic signoff, "Until next time, pleasant ... dreams?," segueing into the show's haunting woodwind theme music.

Marshall hosted the program every year but the final one, when actress Tammy Grimes took over, maintaining the format.
Available Episodes
| Episode Title | Broadcast Date | File Size |
| --- | --- | --- |
| The Old Ones Are Hard to Kill | Jan 06, 1974 | 13.1 MB |
| The Return of the Moresbys | Jan 07, 1974 | 13.2 MB |
| Lost Dog | Jan 09, 1974 | 11.7 MB |
| No Hiding Place | Jan 10, 1974 | 11.7 MB |
| The Golem | Dec 30, 1974 | 9.99 MB |
| The Premature Burial | Jan 06, 1975 | 11.8 MB |
| The Oblong Box | Jan 08, 1975 | 11.9 MB |
| Berenice | Jan 09, 1975 | 11.9 MB |
| Death Is So Trivial | Feb 07, 1975 | 10.0 MB |
| Them! | Feb 27, 1975 | 10.0 MB |
| Afraid to Live Afraid to Die | Apr 23, 1975 | 10.0 MB |
| The Red Frisbee | Jan 16, 1976 | 10.1 MB |
| Demon Lover | May 27, 1976 | 7.22 MB |
| Loser Take All | Jul 11, 1976 | 9.80 MB |
| Every Dog Has His Day | Aug 21, 1976 | 13.8 MB |
| The Secret Chamber | Nov 05, 1976 | 7.09 MB |
| The Smoking Pistol | Dec 14, 1976 | 10.6 MB |
| Double Zero | Dec 23, 1976 | 10.4 MB |
| Your Move Mr. Ellers | Dec 30, 1976 | 10.3 MB |
| The Meteorite | Apr 11, 1977 | 7.79 MB |
| The Ninth Volume | Dec 30, 1977 | 7.52 MB |
| International Dateline | Apr 25, 1978 | 13.5 MB |
| The Permanent Man | Apr 08, 1979 | 13.2 MB |
| The 999999 Dollar Error | Nov 14, 1979 | 10.3 MB |
| Strange New Tomorrow | Nov 26, 1979 | 10.3 MB |
| The Philosophers Stone | Nov 28, 1979 | 10.4 MB |
| The God Machine | Jan 28, 1980 | 10.5 MB |
| The Legend Begins | Jan 16, 1981 | 10.2 MB |
| Murder On the Space Shuttle | Mar 09, 1981 | 11.9 MB |
| The Last Orbit | Jan 08, 1982 | 13.1 MB |
| The Last Duel with Host Tammy Grimes | Apr 30, 1982 | 7.63 MB |
| Resident Killer with Host Tammy Grimes | Oct 25, 1982 | 10.0 MB |