Boston Blackie - 100 Mp3 Downloads Available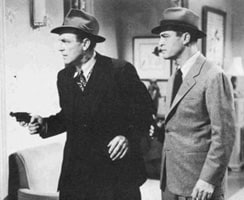 The Boston Blackie radio series, also starring Morris, began June 23, 1944, on NBC as a summer replacement for The Amos 'n' Andy Show. Sponsored by Rinso, the series continued until September 15 of that year. Unlike the concurrent films, Blackie had a steady romantic interest in the radio show: Lesley Woods appeared as Blackie's girlfriend Mary Wesley. Harlow Wilcox was the show's announcer.

On April 11, 1945, Richard Kollmar took over the title role in a radio series syndicated by Frederic W. Ziv to Mutual and other network outlets. Over 200 episodes of this series were produced between 1944 and October 25, 1950. Other sponsors included Lifebuoy Soap, Champagne Velvet beer, and R&H beer.

While investigating mysteries, Blackie invariably encountered harebrained Police Inspector Farraday (Maurice Tarplin) and always solved the mystery to Farraday's amazement. Initially, friction surfaced in the relationship between Blackie and Farraday, but as the series continued, Farraday recognized Blackie's talents and requested assistance. Blackie dated Mary Wesley (Jan Miner), and for the first half of the series, his best pal Shorty was always on hand. The humorless Farraday was on the receiving end of Blackie's bad puns and word play.
Available Episodes
| Episode Title | Broadcast Date | File Size |
| --- | --- | --- |
| 010 the oscar wolfe case | Jun 11, 1945 | 6.21 MB |
| 009 mrs boston blackie | Jun 06, 1945 | 6.18 MB |
| 005 coverup for mary | May 09, 1945 | 6.14 MB |
| 006 the william blaine vase | May 16, 1945 | 6.09 MB |
| 004 john walters murder | May 02, 1945 | 5.55 MB |
| 003 the wentworth diamonds | Apr 25, 1945 | 6.08 MB |
| 008 the missing string of pearls | Aug 11, 1944 | 6.52 MB |
| 007 alice manweather dead or alive | Aug 04, 1944 | 6.80 MB |
| 006 polly morrisons gun collection | Jul 28, 1944 | 6.74 MB |
| 005 black market meat ring | Jul 21, 1944 | 6.73 MB |
| 004 the star of the nile | Jul 14, 1944 | 5.12 MB |
| 002 fifty hunter street | Jun 30, 1944 | 6.78 MB |
| 001 the rockwell diamond | Jun 23, 1944 | 6.72 MB |
| 011 the sam bellows case | Jun 18, 1945 | 6.09 MB |
| 012 the larry brown case | Jun 25, 1945 | 6.17 MB |
| 013 blackie jilts mary | Jul 02, 1945 | 6.03 MB |
| 014 the worthington pearls | Jul 09, 1945 | 6.16 MB |
| 015 blackies car kills a woman | Jul 16, 1945 | 5.87 MB |
| 016 the case of the three way split | Jul 23, 1945 | 4.40 MB |
| 018 hypnotic murder | Aug 06, 1945 | 4.54 MB |
| 017 the mary at sea | Jul 30, 1945 | 5.95 MB |
| 019 evelyn jones murdered | Aug 13, 1945 | 6.02 MB |
| 020 blackie steals a necklace for charity | Aug 20, 1945 | 6.23 MB |
| 023 bill cranes attorney | Sep 13, 1945 | 6.00 MB |
| 024 the fred arlen murder | Sep 20, 1945 | 6.16 MB |
| 026 the copy of diamond bracelet | Oct 11, 1945 | 5.87 MB |
| 025 westfield diamonds | Oct 04, 1945 | 6.03 MB |
| 027 boxers murder case | Oct 18, 1945 | 6.11 MB |
| 028 richards diamond case | Oct 25, 1945 | 5.86 MB |
| 030 amnesia victim | Nov 08, 1945 | 6.08 MB |
| 029 mary disappears | Nov 01, 1945 | 6.37 MB |
| 032 blackie kidnapped | Nov 22, 1945 | 6.03 MB |
| 033 simmons construction murder | Nov 29, 1945 | 4.95 MB |
| 034 williams missing pearl necklace | Dec 06, 1945 | 6.36 MB |
| 031 murder in the music room | Nov 15, 1945 | 5.90 MB |
| 035 murder at the movies | Dec 13, 1945 | 6.11 MB |
| 036 tv poisoning | Dec 20, 1945 | 6.00 MB |
| 037 the masters diamond | Dec 27, 1945 | 5.49 MB |
| 038 the sword swallower | Jan 03, 1946 | 5.29 MB |
| 041 the disappearing body | Jan 22, 1946 | 4.09 MB |
| 043 the brandon jewel robbery | Feb 05, 1946 | 4.13 MB |
| 044 the congdon ransom | Feb 12, 1946 | 4.06 MB |
| 042 the john williams inheritance case | Jan 29, 1946 | 5.58 MB |
| 046 a vase leads to murder | Feb 26, 1946 | 6.12 MB |
| 045 harry benson murders his wife | Feb 19, 1946 | 6.18 MB |
| 047 tom everett murder with an alibi | Mar 05, 1946 | 6.15 MB |
| 048 the colorblind accomplice | Mar 12, 1946 | 6.08 MB |
| 050 pierre the designer | Mar 26, 1946 | 5.87 MB |
| 049 the worthington ghost | Mar 19, 1946 | 6.04 MB |
| 053 the baseball player murder | Apr 16, 1946 | 6.25 MB |
| 054 the stolen car ring | Apr 23, 1946 | 6.10 MB |
| 055 the frances fielding murder | Apr 30, 1946 | 6.18 MB |
| 056 the winthrope jewel robberies | May 07, 1946 | 5.95 MB |
| 057 the merry-go-round murder | May 14, 1946 | 6.04 MB |
| 058 the blaine brothers pawn shop murder | May 21, 1946 | 6.55 MB |
| 059 the escaped prisoner | May 28, 1946 | 6.48 MB |
| 061 the disappearing plane | Jun 11, 1946 | 5.79 MB |
| 062 the hooded gang protection racket | Jun 18, 1946 | 6.30 MB |
| 063 gambler joe garland killed | Jun 25, 1946 | 6.13 MB |
| 064 uncle frank murdered by joe parker | Jul 02, 1946 | 6.09 MB |
| 060 three witnesses to will killed | Jun 04, 1946 | 6.15 MB |
| 065 the skating rink murders | Jul 09, 1946 | 6.78 MB |
| 066 the murdered truck driver | Jul 16, 1946 | 6.84 MB |
| 067 the murdering cuckoo clock | Jul 23, 1946 | 5.99 MB |
| 068 mutiny lead to murder aboard the swan | Jul 30, 1946 | 5.64 MB |
| 071 jealous partners and arson | Aug 20, 1946 | 6.39 MB |
| 073 the stolen rare book | Sep 03, 1946 | 6.12 MB |
| 069 jerry williams fixed court case | Aug 06, 1946 | 6.10 MB |
| 070 the diamond smugglers | Aug 13, 1946 | 6.27 MB |
| 072 the rockwell diamond | Aug 27, 1946 | 6.01 MB |
| 075 the apartment swindler | Sep 17, 1946 | 6.45 MB |
| 076 the abbott painting | Sep 24, 1946 | 6.22 MB |
| 074 backstage murder | Sep 10, 1946 | 6.33 MB |
| 077 the undersea murder | Oct 01, 1946 | 6.34 MB |
| 078 murdered show dog owner | Oct 08, 1946 | 6.25 MB |
| 080 faraday shot | Oct 22, 1946 | 6.15 MB |
| 081 grannys witchcraft | Oct 29, 1946 | 5.96 MB |
| 079 murder at the rodeo | Oct 15, 1946 | 6.33 MB |
| 082 a new face for joe harvey | Nov 05, 1946 | 5.81 MB |
| 083 only one way out for me | Nov 12, 1946 | 6.42 MB |
| 084 bill and harry fifty g necklace | Nov 19, 1946 | 6.08 MB |
| 085 the lenny powell murder | Nov 26, 1946 | 6.28 MB |
| 087 mary registered nurse | Dec 10, 1946 | 5.88 MB |
| 086 blackie goes to jail for diamond theft | Dec 03, 1946 | 6.19 MB |
| 089 the derailed gold train | Dec 24, 1946 | 5.93 MB |
| 088 police impersonater | Dec 17, 1946 | 6.14 MB |
| 090 carl browning cleaning shop | Dec 31, 1946 | 6.34 MB |
| 091 jack small alias bill bigelow | Jan 07, 1947 | 6.04 MB |
| 092 blackie and the fur thefts | Jan 14, 1947 | 5.41 MB |
| 093 the search for jim gary | Jan 21, 1947 | 4.48 MB |
| 094 jacque pierre and the diamonds | Jan 28, 1947 | 6.32 MB |
| 095 the peters mix-up | Feb 04, 1947 | 7.59 MB |
| 096 jailbirds murdock and dawson | Feb 11, 1947 | 5.61 MB |
| 097 7 years bad luck for florence wells | Feb 18, 1947 | 6.13 MB |
| 098 joe delivers the goods | Feb 25, 1947 | 6.25 MB |
| 099 larry the kid vs savinni | Mar 04, 1947 | 6.18 MB |
| 100 10th street gym and stolen car ring | Mar 11, 1947 | 6.22 MB |
| 101 sam fishers past | Mar 18, 1947 | 6.19 MB |
| 102 horseroom thefts of boston blackie | Mar 25, 1947 | 6.35 MB |
| 103 the bus to valley junction | Apr 01, 1947 | 4.81 MB |