Bob Hope - 7 Mp3 Downloads Available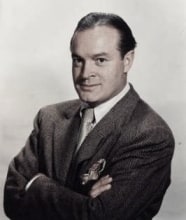 Bob Hope (May 29, 1903 - July 27, 2003) was one of the most recognized and unique talents in the world. Performing on Broadway, on radio and television, movies and traveling tours for the U.S. Military. Bob Hope was well known for his good natured humor and fast wit. During the length of his career, no other individual has traveled so far, to great lengths, to entertain so many people.

At an early age, 12, Bob Hope worked odd jobs at a local board walk doing dance and comedy routines to make extra money. He entered many dancing and amateur talent contests, and won prizes for his impersonation of Charlie Chaplin.

Hope first appeared on television in 1932 during a test transmission from an experimental CBS studio in New York. His career in broadcasting spanned sixty-four years and included a long association with NBC. Hope made his network radio debut in 1937 on NBC. His first regular series for NBC Radio was the Woodbury Soap Hour. A year later The Pepsodent Radio Show Starring Bob Hope began, and would run through 1953.

Hope did many specials for the NBC television network in the following decades. These were often sponsored by Chrysler and Hope served as a spokesman for the firm for many years. Hope's Christmas specials were popular favorites and often featured a performance of "Silver Bells" (from his 1951 film The Lemon Drop Kid) done as a duet with an often much younger female guest star (such as Olivia Newton-John or Brooke Shields).

Hope's 1970 and 1971 Christmas specials for NBC -- filmed in Vietnam in front of military audiences at the height of the war, and both of which actually aired in January, after he had returned from overseas -- are on the list of the Top 30 U.S. Network Prime time Telecasts of All Time. Both were seen by more than 60 percent of the U.S. households watching television at the time they aired.

His final television special, Laughing with the Presidents, was broadcast in 1996, with Tony Danza helping Hope present a retrospective about presidents of the United States.