Bob Crosby - 3 Mp3 Downloads Available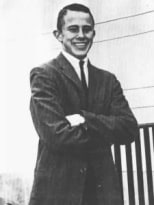 Bob Crosby (*August 23, 1913 Spokane, Washington - March 9, 1993 La Jolla, California) was an American dixieland bandleader and vocalist, best known for his group Bob Crosby and the Bob Cats.

He was the youngest of seven children: five boys, Larry (1895-1975), Everett (born 1896), Ted (born 1900), Harry (1903-1977, popularly known as Bing Crosby) and Bob; and two girls, Catherine (born 1905) and Mary Rose (born 1907). His parents were English-American bookkeeper Harry Lowe Crosby (1871-1950) and Irish-American Catherine Harrigan (1873-1964), (affectionately known as Kate), the daughter of a builder from County Mayo in Ireland. His paternal ancestors Thomas Prence and Patience Brewster were born in England and immigrated to the U.S. in the 17th century; Brewster's family came over on the Mayflower.

Bob Crosby started singing with Anson Weeks (1931-34) and the Dorsey Brothers (1934-35). He led his first band in 1935, when the former members of Ben Pollack's band elected him as titular leader. His most famous band, the Bob Cats, was a Dixieland jazz group with members from the Bob Crosby Orchestra. Both the Bob Crosby Orchestra and the smaller Bob Cats group specialized in Dixieland jazz, presaging the traditional jazz revival of the 1940s. Crosby's singing voice was remarkably similar to that of his brother Bing, but without its range.

The Bob Crosby Orchestra and the Bob Cats included (at various times) Yank Lawson, Billy Butterfield, Muggsy Spanier, Matty Matlock, Irving Fazola, Ward Silloway, Warren Smith, Eddie Miller, Joe Sullivan, Bob Zurke, Jess Stacy, Nappy Lamare, Bob Haggart Jack Sperling and Ray Bauduc.

Hits included "Summertime" (theme song), "In a Little Gypsy Tea Room," "Whispers in The Dark," "South Rampart Street Parade," "March of the Bob Cats," "Day In, Day Out," "You Must Have Been a Beautiful Baby," "Dolores" and "New San Antonio Rose" (last three with Bing Crosby). A remarkable bass and drums duet between Haggart and Bauduc, "Big Noise From Winnetka," became a hit in 1938-39.