Blue Beetle - 21 Mp3 Downloads Available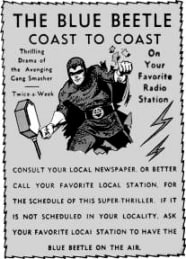 The Blue Beetle had a relatively short career on the radio, between May and September of 1940. Motion picture and radio actor Frank Lovejoy was the Blue Beetle for the first 13 episodes, while for the rest of the shows, the voice was provided by a different, uncredited actor. The Blue Beetle was a young police officer who saw the need for extra-ordinary crime fighting. He took the task on himself by secretly donning a superhero costume to create fear in the criminals who were to learn to fear the Blue Beetle's wrath.

The 13-minute segments were usually only two-parters, so the stories were often more simple than other popular programs, such as the Superman radio serial.