Blondie - 5 Mp3 Downloads Available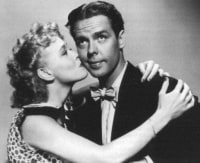 Blondie was a radio situation comedy adapted from the long-run Blondie comic strip by Chic Young. The radio program had a long run on several networks from 1939 to 1950. After Penny Singleton was cast in the title role of the feature film Blondie (1938), co-starring with Arthur Lake as Dagwood, she and Lake repeated their roles December 20, 1938, on The Bob Hope Show. The appearance with Hope led to their own show, beginning July 3, 1939, on CBS as a summer replacement for The Eddie Cantor Show. However, Cantor did not return in the fall, so the sponsor, Camel Cigarettes chose to keep Blondie on the air Mondays at 7:30pm. Camel remained the sponsor through the early WWII years until June 26, 1944.

In 1944, Blondie was on the Blue Network, sponsored by Super Suds, airing Fridays at 7pm from July 21 to September 1. The final three weeks of that run overlapped with Blondie's return to CBS on Sundays at 8pm from August 13, 1944, to September 26, 1948, still sponsored by Super Suds. Beginning in mid-1945, the 30-minute program was heard Mondays at 7:30pm. Super Suds continued as the sponsor when the show moved to NBC on Wednesdays at 8pm from October 6, 1948, to June 29, 1949.