Blackstone The Magic Detective - 38 Mp3 Downloads Available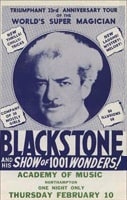 Blackstone, the Magic Detective was a 15-minute radio series which aired Sunday afternoons at 2:45pm ET on the Mutual Broadcasting System from October 3, 1948 until April 3, 1949.

The series, starring Ed Jerome as "the world's greatest living magician," was based on real-life magician Harry Blackstone Sr. Storylines usually opened with Blackstone (Jerome) telling his friends John (Ted Osborne) and Rhoda (Fran Carlon) about an experience from his past, and this mystery story was then dramatized in a flashback. At the end, Blackstone challenged the audience to find a solution to the magical mystery. Each show concluded with Blackstone outlining a trick that listeners could perform for the amusement of their friends.

The announcer for the series was Alan Kent, and the background organ music was supplied by Bill Meeder. The scripts were written by Walter B. Gibson, the ghostwriter of Blackstone's books.

Gibson also created EC Comics' Blackstone the Magician Detective Fights Crime in 1947. The comic book series continued at Marvel as Blackstone the Magician (#2) and Blackstone the Magician Detective (#3, #4).
Available Episodes
| Episode Title | Broadcast Date | File Size |
| --- | --- | --- |
| The Ghost That Trapped A Killer | Oct 03, 1948 | 2.02 MB |
| The Reluctant Buzzsaw | Oct 10, 1948 | 1.94 MB |
| The Emerald In The Fishbowl | Oct 17, 1948 | 2.01 MB |
| Maharajas Gold | Oct 24, 1948 | 1.93 MB |
| Educated Dummy | Oct 31, 1948 | 2.88 MB |
| Riddle Of The Talking Skull | Nov 07, 1948 | 2.92 MB |
| Whispering Bhudah | Nov 14, 1948 | 2.96 MB |
| Organ Murder | Nov 21, 1948 | 2.90 MB |
| Ghost That Wasn't | Nov 28, 1948 | 2.96 MB |
| The Icy Touch | Dec 05, 1948 | 2.99 MB |
| Underwater Death | Dec 12, 1948 | 2.99 MB |
| Coins Of Confucius | Dec 19, 1948 | 3.03 MB |
| Murder On Stage | Dec 26, 1948 | 2.97 MB |
| Midway Robberies | Jan 02, 1949 | 3.01 MB |
| Frozen Lady | Jan 09, 1949 | 2.98 MB |
| Hooded Rider | Jan 16, 1949 | 2.95 MB |
| Phantom Intermezzo | Jan 23, 1949 | 3.01 MB |
| Vanishing Pearls | Jan 30, 1949 | 3.07 MB |
| Curse Of The Yogi | Feb 06, 1949 | 3.04 MB |
| Coins Of Cleopatra | Feb 13, 1949 | 3.17 MB |
| Hand Of Caloused Row | Feb 20, 1949 | 2.94 MB |
| Message From Nowhere | Feb 27, 1949 | 3.03 MB |
| Riddle Of The Red Rose | Mar 06, 1949 | 3.02 MB |
| Aztec Fire God | Mar 13, 1949 | 3.02 MB |
| Missing Palmist | Mar 20, 1949 | 3.05 MB |
| Ladder Of Wealth | Mar 27, 1949 | 3.06 MB |
| Locked Book | Apr 03, 1949 | 3.04 MB |
| Deathless Shot | Apr 10, 1949 | 3.00 MB |
| The Riddle Of The Other Eight Ball | Apr 17, 1949 | 2.86 MB |
| The Knife From The Dark | May 29, 1949 | 2.73 MB |
| Hindu Sword Cabinet | Jun 12, 1949 | 2.79 MB |
| Face Of Death | Jun 19, 1949 | 2.80 MB |
| Voice From The Void | Jun 26, 1949 | 2.76 MB |
| Crime in the Stars | Jul 24, 1949 | 2.78 MB |
| The Devil's Cauldron | Jul 31, 1949 | 2.78 MB |
| The Ghost in the Crypt | Aug 07, 1949 | 2.78 MB |
| Death Defying Death | Aug 21, 1949 | 2.97 MB |
| Shark Island Story | | 2.94 MB |