The Black Museum - 11 Mp3 Downloads Available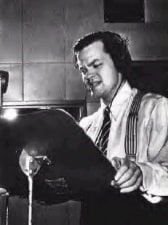 The Black Museum was a 1951 radio crime drama program produced by Harry Alan Towers for the BBC and based on real-life cases from the files of Scotland Yard's Black Museum. Ira Marion was the scriptwriter, and music for the series was composed and conducted by Sidney Torch.

Orson Welles was both host and narrator for stories of horror and mystery based on Scotland Yard's collection of murder weapons and various ordinary objects once associated with historical true crime cases. The show's opening began:

This is Orson Welles, speaking from London.
Sound of Big Ben chimes
The Black Museum... a repository of death. Here in the grim stone structure on the Thames which houses Scotland Yard is a warehouse of homicide, where everyday objects... a woman's shoe, a tiny white box, a quilted robe... all are touched by murder.
Available Episodes
| Episode Title | Broadcast Date | File Size |
| --- | --- | --- |
| Meat Juice | Aug 18, 1951 | 3.07 MB |
| Champagne Glass | Jul 26, 1951 | 3.01 MB |
| The Babys Jacket | Jul 16, 1951 | 2.98 MB |
| The Rising Sun | Jun 23, 1951 | 5.57 MB |
| The Center Fire Bullet | Jun 13, 1951 | 5.37 MB |
| The Scarf | May 27, 1951 | 3.06 MB |
| The Chain | Apr 10, 1951 | 2.99 MB |
| The Brass Button | Mar 25, 1951 | 2.75 MB |
| The Sash Cord | Mar 12, 1951 | 2.70 MB |
| The Telegram | Feb 26, 1951 | 5.80 MB |
| The Silencer | Feb 11, 1951 | 5.81 MB |