Barry Craig Confidential Investigator - 18 Mp3 Downloads Available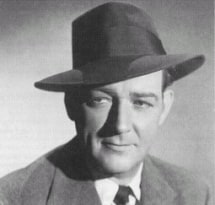 Originally aired October 31, 1951 Barry Craig, Confidential Investigator is one of the few detective radio series that had separate versions of it broadcast from both coasts. Even the spelling changed over the years. It was first "Barry Crane" and then "Barrie Craig". NBC produced it in New York from 1951 to 1954 and then moved it to Hollywood where it aired from 1954 to 1955. It attracted only occasional sponsors so it was usually a sustainer. William Gargan, who also played the better known television (and radio) detective Martin Kane, was the voice of New York eye BARRY CRAIG while Ralph Bell portrayed his associate, Lt. Travis Rogers. Craig's office was on Madison Avenue and his adventures were fairly standard PI fare. He worked alone, solved cases efficiently, and feared no man.

As the promos went, he was "your man when you can't go to the cops. Confidentiality a speciality." Like Sam Spade, Craig narrated his stories, in addition to being the leading character in this 30 minute show. Nearly sixty episodes are in trading circulation today William Gargan as a Detective (and an actor) If William Gargan brought an air of authenticity to his roles as a private detective, there were some good very reasons. His father was a bookmaker, so Gargan learned a lot about the gambling world and met a lot of interesting characters from across the spectrum of society. The main reason why Gargan was so convincing as a detective was that he was probably the only actor of his time who had actually been a private detective. He first worked as a credit investigator and collection agent for a clothing firm. Once Gargan was shot at when he attempted to get a deadbeat customer to pay his overdue account. Next, he worked for about a year as a private detective with a New York agency for "$10.00 a day and expenses." Gargan did many of the usual detective jobs: guarding payrolls, tailing possible suspects, conducting stakeouts, and protecting clients with valuables. He was fired when he lost track of a diamond salesman he was supposed to be protecting. As an actor, William Gargan had played Ellery Queen in three movies, before being cast as Kane. After he left Martin Kane, Gargan landed on his feet. He signed a million dollar, seven year contract with MCA for the radio show Barry Craig, Confidential Investigator on NBC. The final spelling used for his character's first name, Barrie, was the same as that of Gargan's oldest son. Gargan eventually got throat cancer, had a laryngectomy and campaigned vigorously (and rather ironically) against smoking for The American Cancer Society for the last twenty years of his life).
Available Episodes
| Episode Title | Broadcast Date | File Size |
| --- | --- | --- |
| Code Of The Underworld | | 6.38 MB |
| The Big Fix | Jun 09, 1955 | 4.02 MB |
| Corpse On The Town | Mar 09, 1955 | 5.40 MB |
| Missing Hotel Room | Feb 09, 1955 | 7.77 MB |
| Bull Fiddle | Dec 19, 1954 | 5.80 MB |
| Moe and Larry | Nov 21, 1954 | 3.75 MB |
| Hay Is For Homicide | Aug 31, 1954 | 6.69 MB |
| Blood Money | Aug 24, 1954 | 6.65 MB |
| Mid-Summer Lunacy | Aug 17, 1954 | 9.93 MB |
| For Love Of Murder | Aug 03, 1954 | 5.66 MB |
| Johnny Phenox | Apr 06, 1954 | 4.80 MB |
| Alias Clark Smith | Oct 03, 1953 | 4.29 MB |
| Song Of Death | Dec 25, 1952 | 6.54 MB |
| The Motive For Murder | Feb 20, 1952 | 5.25 MB |
| Cupie Doll | Feb 13, 1952 | 4.06 MB |
| Death Of A Private Eye | Jan 02, 1952 | 6.49 MB |
| The Paper Bullet | Dec 05, 1951 | 6.71 MB |
| Case Of The Philanthropist Bride | May 07, 1951 | 6.82 MB |