The Baby Snooks Show - 22 Mp3 Downloads Available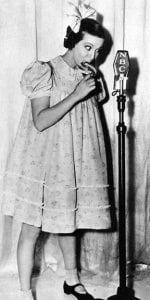 The Baby Snooks Show was an American radio program starring comedienne and Ziegfeld Follies alumna Fanny Brice as a mischievous young girl who was 40 years younger than the actress who played her when she first went on the air.

The series began on CBS September 17, 1944, airing on Sunday evenings at 6:30pm as Toasties Time. The title soon changed to The Baby Snooks Show, and the series was sometimes called Baby Snooks and Daddy.
Available Episodes
| Episode Title | Broadcast Date | File Size |
| --- | --- | --- |
| Barking Rabbit | May 11, 1939 | 1.66 MB |
| Golf Tea | May 18, 1939 | 2.80 MB |
| Gone Fishing | Jun 01, 1939 | 1.61 MB |
| Violet Ray | Jun 08, 1939 | 1.63 MB |
| Good News Of 1940 Pt1 | Dec 21, 1939 | 3.45 MB |
| Good News Of 1940 Pt2 | Dec 21, 1939 | 3.47 MB |
| Missing Dollar | Feb 22, 1940 | 1.90 MB |
| Snooks Has Amnesia | Mar 07, 1940 | 2.60 MB |
| Baby Fish Story | Apr 11, 1940 | 1.71 MB |
| New Car | Sep 12, 1940 | 2.16 MB |
| Where's My Change | Oct 17, 1940 | 2.74 MB |
| Ruined Suit | Oct 31, 1940 | 2.75 MB |
| The Opera | Nov 27, 1941 | 5.89 MB |
| Go To Court | Nov 04, 1943 | 6.65 MB |
| Baby Snooks Is Lost | Dec 16, 1945 | 6.79 MB |
| Snooks Stays At Home | Sep 06, 1946 | 6.55 MB |
| Halloween | Nov 01, 1946 | 7.00 MB |
| Lady Detective | Jan 15, 1951 | 6.18 MB |
| Hanging Wallpaper | Feb 18, 1951 | 5.31 MB |
| Easter Bonnet | Mar 20, 1951 | 6.59 MB |
| Report Card | May 01, 1951 | 6.67 MB |
| Daddy's Old Flame | May 08, 1951 | 5.58 MB |