The Avenger - 23 Mp3 Downloads Available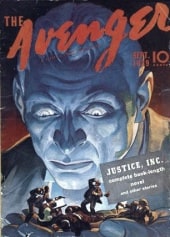 The Avenger is a fictional character whose original adventures appeared from 1939 to 1942 in The Avenger magazine, published by Street and Smith Publications. Five additional short stories were published in Clues Detective magazine from 1942 to 1943, and a sixth novelette in The Shadow magazine in 1943. Newly-written adventures were commissioned and published by Warner Brother's Paperback Library from 1973 to 1974. The Avenger was a pulp hero who combined elements of Doc Savage and The Shadow though he was never as popular as either of these characters.

The authorship of the pulp series was credited by Street and Smith to Kenneth Robeson, the same byline that appeared on the Doc Savage stories. The "Kenneth Robeson" name was a house pseudonym used by a number of different Street & Smith writers. Most of the original Avenger stories were written by Paul Ernst.
Available Episodes
| Episode Title | Broadcast Date | File Size |
| --- | --- | --- |
| The Mysteries of the Giant Brain | Jun 15, 1945 | 6.34 MB |
| Rendezvous with Murder | Jun 22, 1945 | 6.42 MB |
| The Eyes of Shiva | Jun 29, 1945 | 6.62 MB |
| The Coins of Death | Jul 06, 1945 | 6.48 MB |
| The Mystery of Dead Man's Rock | Jul 13, 1945 | 6.56 MB |
| The Crypt of Thoth | Jul 20, 1945 | 6.57 MB |
| The Melody of Murder | Aug 03, 1945 | 6.60 MB |
| The Ghost of Murders | Aug 17, 1945 | 6.34 MB |
| The Blue Pearls | Aug 24, 1945 | 6.24 MB |
| The Wing Ate Heirs | Aug 31, 1945 | 6.54 MB |
| The Thoroughbred Murders | Sep 07, 1945 | 6.52 MB |
| The Department of Death | Sep 14, 1945 | 6.49 MB |
| The Keys to the City | Sep 21, 1945 | 6.51 MB |
| Death in Mid-Air | Sep 28, 1945 | 6.42 MB |
| The Hooded Circle | Oct 05, 1945 | 6.48 MB |
| Death Rings the Bell | Oct 12, 1945 | 6.56 MB |
| The Subway Ghost | Oct 19, 1945 | 6.48 MB |
| The Cradle of Doom | Oct 26, 1945 | 6.50 MB |
| Death Meets the Ghost | Nov 02, 1945 | 6.46 MB |
| Murder Hits the Jackpot | Nov 09, 1945 | 6.57 MB |
| The Diploma of Death | Nov 16, 1945 | 6.60 MB |
| The Shot in the Dark | Nov 23, 1945 | 6.50 MB |
| Death Counts Ten | Nov 30, 1945 | 6.56 MB |