Amos 'n' Andy - 131 Mp3 Downloads Available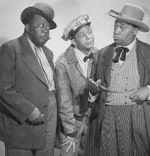 "Amos 'n' Andy", is one of the most popular and long-running radio programs of all time, was brought to television in the summer of 1951. The series was produced by Freemad Gosden and Charles Correll, the two actors who had created and starred in the radio version. Since they were white, and the entire cast of the show on television had to be black, a much ballyhooed search was held, over a period of four years, to find the right actors to play the parts. Only Ernestine Wade and Amanda Randolph were brought over from the radio cast.

Set in Harlem, Amos 'n' Andy centered around the activities of George Stevens, a conniving character who was always looking for a way to make a fast buck. As head of the Mystic Knights of the Sea Lodge, where he held the position of "Kingfish," he got most of the lodge brothers involved in his schemes. That put him at odds not only with them, but with his wife, Sapphire, and her mother. Mama, in particular, didn't trust him at all. Andy Brown was the most gullible of the lodge members, a husky, well-meaning, but rather simple soul. The Kingfish was constantly trying to swindle him in one way or another, but the "big dummy" (as Kingfish called him) kept coming back for more. More often than not, Kingfish would get them both into trouble, but win Andy's cooperation with an appeal to fraternal spirit--"Holy mackerel, Andy! We's all got to stick together in dis heah thing... remember, we is brothers in that great fraternity, the Mystic Knights of the Sea."

Amos was actually a rather minor character, the philosophical cabdriver who narrated most of the episodes. Madame Queen was Andy's friend and Lightnin' was the slow-moving janitor at the lodge.

Civil rights groups such as the NAACP had long protested the series as fostering racial stereotypes, to little avail. Amos 'n' Andy drew sizable audiences during its two-year CBS run, and was widely rerun on local stations for the next decade. The turning point came in 1963 when CBS Films, which was still calling Amos 'n' Andy one of its most widely circulated shows, announced that the program had been sold to two African countries, Kenya and Western Nigeria. Soon afterward, an official of the Kenya government announced that the program would be banned in his country. This focused attention a new on the old controversy and in the summer of 1964, when a Chicago station announced that it was resuming reruns, there were widespread and bitter protests. CBS found its market for the films suddenly disappearing, and in 1966, the program was withdrawn from sale, as quietly as possible.

As to whether the program was in fact racist, there was no agreement on that. The creators certainly didn't think so, and actor Alvin Childress (Amos) was quoted as saying, "I didn't feel it harmed the Negro at all... Actually the series had many episodes that showed the Negro with professions and businesses like attorneys, store owners, and so on, which they never had in TV or movies before..." Others pointed out that the situations were no different than those found in many comedy programs with white characters. Nevertheless the humor certainly derived from the fact that these were shiftless, conniving, not-too-bright blacks. The very stereotypes that had so long been unfairly applied to an entire race were used throughout. As a result, it is unlikely that Amos 'n' Andy will ever be seen again on television.
Available Episodes
| Episode Title | Broadcast Date | File Size |
| --- | --- | --- |
| Victor Moore as Guest | | 7.12 MB |
| Two Different People | | 6.49 MB |
| Sapphires Gown | | 4.92 MB |
| Sapphire Threatens to Leave | | 5.45 MB |
| Rattletrap Automobile | | 5.83 MB |
| Presidential Elections | | 1.23 MB |
| Paul Taylor Choris as Guest | | 7.21 MB |
| New Years Show | | 7.13 MB |
| Music Hall | | 5.57 MB |
| Marriage Go Round | | 5.06 MB |
| Amos n Andy 25th Anniversay Show | | 6.46 MB |
| Amos Seen Talking to Tootsie | Apr 22, 1929 | 2.37 MB |
| Raising Money for the Lodge | Apr 23, 1929 | 2.38 MB |
| Ruby Thinks Amos is Cheating | Apr 25, 1929 | 2.34 MB |
| Lodge Hall Contract | Apr 26, 1929 | 2.37 MB |
| Signing the Contract | Apr 27, 1929 | 2.43 MB |
| Missing Lodge Money | May 19, 1929 | 2.31 MB |
| Opening Easyriding Taxi Cab | May 20, 1929 | 2.38 MB |
| Earl Dixon Joins The Lodge | May 21, 1929 | 2.30 MB |
| Earl Dixon Has Bought Kingfish | May 23, 1929 | 2.36 MB |
| All the Moneys Tide Up | Jun 08, 1929 | 2.34 MB |
| Writing a Letter | Jun 09, 1929 | 2.41 MB |
| At The Dairy | Nov 22, 1929 | 1.19 MB |
| Take Off That Shoe | Apr 04, 1930 | 1.24 MB |
| 2395th Day of Broadcasting | Aug 19, 1936 | 5.07 MB |
| The Minstrel Show | Dec 04, 1936 | 5.00 MB |
| Marriage of Andrew Brown | Apr 03, 1939 | 5.27 MB |
| The Annual Christmas Show | Dec 24, 1941 | 5.16 MB |
| Andy s New Wife | Oct 08, 1943 | 6.95 MB |
| Coutroom Catastrophe | Oct 22, 1943 | 4.86 MB |
| The Courtroom Catastrophe | Oct 22, 1943 | 6.34 MB |
| The Locked Trucks Secret | Nov 05, 1943 | 6.34 MB |
| Turkey Trouble | Nov 19, 1943 | 4.91 MB |
| Candy For Caroline | Dec 03, 1943 | 6.39 MB |
| Bookends and Babies | Dec 10, 1943 | 6.55 MB |
| Marriage Counselor | Dec 17, 1943 | 9.34 MB |
| Fake Suicide | Jan 19, 1944 | 7.15 MB |
| The Electric Clock Caper | May 05, 1944 | 6.26 MB |
| The Broken Clock | Oct 11, 1944 | 5.12 MB |
| Not Invited to the Party | Oct 12, 1944 | 5.16 MB |
| Ink-Flow Pens | Dec 01, 1944 | 7.07 MB |
| With Frank Morgan | Dec 04, 1944 | 7.13 MB |
| Brazilian Brass Mine | Dec 08, 1944 | 6.16 MB |
| Christmas Show Andy as Santa | Dec 25, 1944 | 5.55 MB |
| Andy The Witness | Jan 05, 1945 | 7.22 MB |
| One Phoney Antique | Jan 12, 1945 | 7.02 MB |
| A Mean Valentine | Feb 16, 1945 | 7.01 MB |
| The Lecture Bureau | Mar 16, 1945 | 7.17 MB |
| Prentiss Clothing Company | Mar 23, 1945 | 7.25 MB |
| The Second Hand Car | Apr 20, 1945 | 7.04 MB |
| Birthday Gift for Sapphire | Mar 12, 1946 | 7.10 MB |
| Sapphire's a Wanted Criminal | Oct 15, 1946 | 7.05 MB |
| The Stolen Car | Dec 10, 1946 | 6.71 MB |
| Kingfish Runs a Rest Home | May 27, 1947 | 6.17 MB |
| Hospitalization Plan | Oct 28, 1947 | 7.04 MB |
| Name the Song Contest | Oct 31, 1948 | 7.11 MB |
| Correspondence School | Nov 07, 1948 | 6.99 MB |
| Tourist Sight Seeing Agency | Nov 14, 1948 | 7.05 MB |
| Cannery Stock | Jan 09, 1949 | 4.36 MB |
| King Fish's Conscience | Jan 09, 1949 | 7.18 MB |
| Nickel | | 7.07 MB |
| Lapsed Insurance Policy | Feb 06, 1949 | 6.96 MB |
| Widow Parker's Inheritance | Feb 13, 1949 | 7.03 MB |
| Godfather to Amos Baby | Feb 20, 1949 | 7.04 MB |
| Photo of Jewelry Store Robbery | Mar 06, 1949 | 5.15 MB |
| Pawn Shop Robbery | Mar 27, 1949 | 6.90 MB |
| Deputy Dirt Commissioner | Apr 03, 1949 | 7.17 MB |
| Kingfish is Evicted | Apr 10, 1949 | 6.84 MB |
| Andy Inherits 2000 | Apr 24, 1949 | 6.85 MB |
| Andy's Bequest | Apr 24, 1949 | 6.94 MB |
| Kingfish's New Boarder | May 01, 1949 | 6.94 MB |
| Kingfish Has No Friends | May 08, 1949 | 6.94 MB |
| Friendly Loan Company | Nov 06, 1949 | 6.73 MB |
| Turkey Falls Off Truck | Nov 20, 1949 | 5.53 MB |
| Lodge Convention in Chicago | Apr 23, 1950 | 6.45 MB |
| Annual Christmas Show | Dec 24, 1950 | 7.15 MB |
| Mother In-Law Dear | Apr 22, 1951 | 6.95 MB |
| Cousin Sydney Moves In | Apr 29, 1951 | 6.96 MB |
| Annual Lodge Hall Picnic | May 06, 1951 | 6.90 MB |
| 3000 Dollar Diamond Ring | Sep 30, 1951 | 6.89 MB |
| Aptitude Test | Oct 07, 1951 | 6.94 MB |
| De Piester's Party | Oct 21, 1951 | 6.86 MB |
| Engaged To Susan Bennett | Oct 28, 1951 | 6.90 MB |
| New Border Chester Benson | Nov 04, 1951 | 6.86 MB |
| Saphire Seeks Romance | Nov 11, 1951 | 6.95 MB |
| Sapphire's Sister Moves In | Nov 25, 1951 | 6.90 MB |
| Long Lost Husband | Oct 12, 1952 | 6.86 MB |
| Jobs as Office Cleaners | Oct 19, 1952 | 6.97 MB |
| Leroy's Oil Stock | Oct 26, 1952 | 7.01 MB |
| Life Story of Amos n Andy | Feb 14, 1953 | 5.58 MB |
| Chauffeur for Madame Queen | Mar 15, 1953 | 5.36 MB |
| Andy the Coward | Mar 29, 1953 | 5.41 MB |
| Andy and Model | Apr 12, 1953 | 6.54 MB |
| The Annual Boat Outing | Apr 26, 1953 | 5.42 MB |
| The Stock Market Tip | May 03, 1953 | 6.89 MB |
| Cabin in Connecticut | May 10, 1953 | 6.80 MB |
| Pancake Mix Contest | Oct 11, 1953 | 7.21 MB |
| Aunt Matilda's Dowry | Oct 25, 1953 | 7.15 MB |
| Saphire's Old Boyfriend | Nov 08, 1953 | 6.95 MB |
| The Loan Business | Nov 29, 1953 | 6.79 MB |
| Cleaning 32 Typerwriters | Dec 06, 1953 | 7.09 MB |
| Amos n Andy 1953-12-13 Kingfish the Baby Doctor | Dec 13, 1953 | 7.12 MB |
| Tuxedo Rental Business | Dec 27, 1953 | 6.73 MB |
| Amos n Andy | Dec 19, 1954 | 5.21 MB |
| Amos n Andy 10000th Show | | 7.24 MB |
| A Bad Valentine | | 7.55 MB |
| A House For 500 | | 6.52 MB |
| Adoption Woes | | 7.62 MB |
| Aligator Bag Incident | | 5.57 MB |
| Amos is Missing | | 7.08 MB |
| Andy Gets Engaged | | 7.16 MB |
| Andy Plays Sailor | | 7.53 MB |
| Best of Show 1948 | | 6.88 MB |
| Car Theft And The Kingfish | | 5.99 MB |
| Christmas Show | | 7.14 MB |
| Divorce Inc | | 7.10 MB |
| Fake Suicide | | 7.56 MB |
| First Half Hour Show | | 6.84 MB |
| First Show For CBS | | 7.12 MB |
| First Show of 1948 Season | | 7.15 MB |
| Flooded House | | 6.97 MB |
| Frank Morgan as Guest | | 7.73 MB |
| French Car | | 6.66 MB |
| Ink Flow Fountain Pen Company | | 7.58 MB |
| Kingfish Leaves His Wife | | 7.05 MB |
| Kingfish Resigns From The Lodge | | 7.20 MB |
| Lawsuit Against Andy | | 7.54 MB |
| Leroy's Two Week Visit | | 7.02 MB |
| Letter the Rehearsal | | 5.69 MB |
| Life Story | | 7.18 MB |
| Lovelorn Column | | 7.55 MB |