The Aldrich Family - 11 Mp3 Downloads Available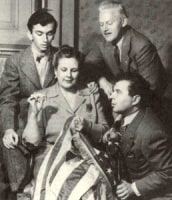 The Aldrich Family, a popular radio teenage situation comedy (1939-1953), was also presented in films, television and comic books. This middle class American family comedy is built around the life of the Aldrich family of Elm Street, Centerville. In particular, the show focuses on the adventures of Henry, the Aldrich's high schooler son.

It is remembered for its unforgettable introduction: awkward teen Henry's mother calling, "Hen-reeeeeeeeeeeee! Hen-ree Al-drich!" Born on Broadway, the creation of playwright Clifford Goldsmith, Henry Aldrich was a minor character in Goldsmith's play What a Life, which was produced and directed by George Abbott and ran for 538 performances (from April 13, 1938 to July 8, 1939). The Broadway cast included Eddie Bracken, Betty Field and Butterfly McQueen. The actor who brought Henry to life on stage was 20-year-old Ezra Stone, who was billed near the bottom as the 20th actor in the cast.

When Rudy Vallee saw the play, he asked Goldsmith to adapt it into some sketches for his radio program, and this was followed in 1938 by a 39-week run of a sketch comedy series on The Kate Smith Hour with Stone continuing in the role of Henry. Kate Smith's director, Bob Welsh, is credited with the creation of the "Hen-reeeeeeeeeeeee! Hen-ree Al-drich!" opening, which eventually became one of the most famous signature sounds in radio.
Available Episodes
| Episode Title | Broadcast Date | File Size |
| --- | --- | --- |
| Man Or Mouse | Sep 28, 1952 | 4.98 MB |
| Paid In Corn | Sep 11, 1952 | 4.99 MB |
| Parents Day | Oct 26, 1952 | 4.97 MB |
| Sam Aldrich Is Sick | Nov 30, 1952 | 4.99 MB |
| The Camping Trip | Oct 19, 1952 | 5.01 MB |
| The Big Deal | Oct 12, 1952 | 4.99 MB |
| The Haircut and News Picture | Oct 05, 1952 | 5.00 MB |
| The Debating Team | Nov 16, 1952 | 4.96 MB |
| The New Suit | Nov 09, 1952 | 4.97 MB |
| The Lost Watch | Dec 07, 1952 | 4.99 MB |
| The Overdue Library Book | Nov 02, 1952 | 4.98 MB |