The Adventures of Ozzie and Harriet - 23 Mp3 Downloads Available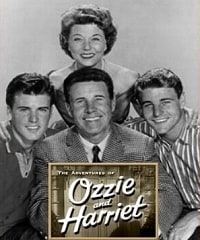 The Adventures of Ozzie and Harriet was a long-running American television series, airing on ABC from October 3, 1952 to September 3, 1966, starring the real life Nelson family. The series starred Ozzie Nelson and his wife, singer Harriet Nelson, and their young sons, David Nelson and Eric Nelson, better known as Ricky. The series attracted large audiences, although it was never a top-ten hit, it became synonymous with the 1950s ideal American family life. It is the longest-running "live-action" non-animated sitcom in US TV history.

When Red Skelton was drafted in March of 1944, Ozzie Nelson was prompted to create his own family situation comedy. The Adventures of Ozzie and Harriet launched on CBS on October 8, 1944, making a mid-season switch to NBC in 1949. The final years of the radio series were on ABC (the former NBC Blue Network) from October 14, 1949 to June 18, 1954. In total 402 radio episodes were produced. In an arrangement that amplified the growing pains of American broadcasting, as radio "grew up" into television, the Nelsons' deal with ABC gave the network the option to move their program to television. The struggling network needed proven talent that was not about to defect to the more established and wealthier networks like CBS or NBC.

The Nelsons' sons, David and Ricky, did not join the cast until the radio show's fifth year. The two boys were played by professional actors prior to their joining because both were too young to perform. The role of David was played by Joel Davis from 1944 until 1945. Tommy Bernard and Henry Blair appeared as Ricky. Other cast members included John Brown as Syd "Thorny" Thornberry, Lurene Tuttle as Harriet's mother, Bea Benaderet as Gloria, Janet Waldo as Emmy Lou, and Dick Trout as Roger. Vocalists included Harriet Nelson, The King Sisters, and Ozzie Nelson. The announcers were Jack Bailey and Verne Smith. The music was by Billy May and Ozzie Nelson. The producers were Dave Elton and Ozzie Nelson.
Available Episodes
| Episode Title | Broadcast Date | File Size |
| --- | --- | --- |
| David's Date Or Yes Man | Nov 02, 1951 | 5.82 MB |
| Complaints | Mar 27, 1949 | 6.75 MB |
| Rover Boys | Mar 20, 1949 | 6.75 MB |
| Income Tax | Mar 13, 1949 | 6.75 MB |
| The Nelson Bank | Feb 27, 1949 | 6.75 MB |
| Dinner Invites | Feb 20, 1949 | 6.75 MB |
| House Cleaning | Feb 06, 1949 | 6.75 MB |
| Card Tricks | Jan 23, 1949 | 6.75 MB |
| Sports Heroes | Jan 09, 1949 | 6.54 MB |
| Knitting Contest | Jan 02, 1949 | 6.75 MB |
| Radio Phonograph | Dec 19, 1948 | 6.74 MB |
| Worrying | Dec 12, 1948 | 6.76 MB |
| The 3rd Degree | Nov 21, 1948 | 6.75 MB |
| Boys Night Out | Nov 14, 1948 | 6.75 MB |
| In A Rut | Nov 07, 1948 | 6.75 MB |
| Haunted House | Oct 31, 1948 | 6.74 MB |
| The New Dress Surprise | Sep 14, 1947 | 5.80 MB |
| Unique Bowling Approach | Feb 23, 1947 | 5.99 MB |
| Ozzie Runs For Office | Dec 01, 1946 | 5.69 MB |
| The Camel | Oct 17, 1945 | 6.75 MB |
| Fighting Jones Boys | Sep 09, 1945 | 6.75 MB |
| Electric Trains | Aug 07, 1945 | 5.86 MB |
| March 3rd Dilema | Jul 09, 1945 | 5.45 MB |