Adventures By Morse - 52 Mp3 Downloads Available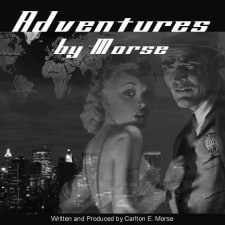 From January 16, 1939 to January 26, 1952, stories from the pen of Carlton E. Morse graced the airwaves. The main ones remembered are One Man's Family, I Love A Mystery, and Adventures by Morse.

Adventures by Morse related the escapades of Captain Bart Friday and Skip Turner, two San Francisco private investigators. Friday was a no-nonsense type, raised in the California. Turner was quite a bit the lady's man, complete with a laconic Southern accent. Their occasional work for U.S. Military Intelligence takes them around the globe.

The series consisted of eight serials that ran from October 26, 1944 to October 18, 1945. The first serial, "City of the Dead", consisted of ten episodes. The second serial was done in three episodes. The remainder of the series alternated between ten and three 30-minute episodes.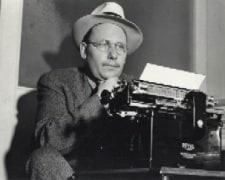 The adventures cover the world as well as the world of adventure. They take place on a South Pacific island, South America, Cambodia, and South Carolina plus other locations. They deal with murder, espionage, Nazi secret bases, kidnappers, voodoo and even snake worshipers. If you're looking for adventure, you'll find it here.
Available Episodes
| Episode Title | Broadcast Date | File Size |
| --- | --- | --- |
| It's Dismal To Die Part 1 | Oct 04, 1945 | 5.93 MB |
| It's Dismal To Die Part 2 | Oct 11, 1945 | 5.93 MB |
| It's Dismal To Die Part 3 | Oct 18, 1945 | 5.93 MB |
| The Girl on Shipwreck Island Part 1 | Apr 05, 1945 | 5.93 MB |
| The Girl on Shipwreck Island Part 2 | Apr 12, 1945 | 5.94 MB |
| The Girl on Shipwreck Island Part 3 | Apr 19, 1945 | 5.93 MB |
| The Cobra King Strikes Back Part 1 | Jan 25, 1945 | 5.93 MB |
| The Cobra King Strikes Back Part 2 | Feb 01, 1945 | 5.93 MB |
| The Cobra King Strikes Back Part 3 | Feb 08, 1945 | 5.93 MB |
| The Cobra King Strikes Back Part 4 | Feb 15, 1945 | 5.93 MB |
| The Cobra King Strikes Back Part 5 | Feb 22, 1945 | 5.93 MB |
| The Cobra King Strikes Back Part 6 | Mar 01, 1945 | 5.93 MB |
| The Cobra King Strikes Back Part 7 | Mar 08, 1945 | 5.93 MB |
| The Cobra King Strikes Back Part 8 | Mar 15, 1945 | 5.94 MB |
| The Cobra King Strikes Back Part 9 | Mar 22, 1945 | 5.93 MB |
| The Cobra King Strikes Back Part 10 | Mar 29, 1945 | 5.93 MB |
| A Coffin For The Lady Part 1 | Jan 04, 1945 | 5.93 MB |
| A Coffin For The Lady Part 2 | Jan 11, 1945 | 5.93 MB |
| A Coffin For The Lady Part 3 | Jan 18, 1945 | 5.93 MB |
| Land Of The Living Dead Part 1 | Oct 07, 1944 | 5.93 MB |
| Land Of The Living Dead Part 2 | Oct 14, 1944 | 5.93 MB |
| Land Of The Living Dead Part 3 | Oct 21, 1944 | 5.93 MB |
| Land Of The Living Dead Part 4 | Oct 28, 1944 | 5.93 MB |
| Land Of The Living Dead Part 5 | Nov 04, 1944 | 5.93 MB |
| Land Of The Living Dead Part 6 | Nov 11, 1944 | 5.93 MB |
| Land Of The Living Dead Part 7 | Nov 18, 1944 | 5.93 MB |
| Land Of The Living Dead Part 8 | Nov 25, 1944 | 5.93 MB |
| Land Of The Living Dead Part 9 | Dec 02, 1944 | 5.93 MB |
| Land Of The Living Dead Part 10 | Dec 09, 1944 | 5.93 MB |
| You'll Be Dead in a Week Part 1 | Sep 16, 1944 | 5.94 MB |
| You'll Be Dead in a Week Part 2 | Sep 23, 1944 | 5.93 MB |
| You'll Be Dead in a Week Part 3 | Sep 30, 1944 | 5.93 MB |
| Dead Men Prowl Part 1 | Jul 08, 1944 | 4.27 MB |
| Dead Men Prowl Part 2 | Jul 15, 1944 | 4.35 MB |
| Dead Men Prowl Part 3 | Jul 22, 1944 | 4.17 MB |
| Dead Men Prowl Part 4 | Jul 29, 1944 | 4.35 MB |
| Dead Men Prowl Part 5 | Aug 05, 1944 | 4.20 MB |
| Dead Men Prowl Part 6 | Aug 12, 1944 | 4.27 MB |
| Dead Men Prowl Part 7 | Aug 19, 1944 | 4.22 MB |
| Dead Men Prowl Part 8 | Aug 26, 1944 | 4.27 MB |
| Dead Men Prowl Part 9 | Sep 02, 1944 | 4.30 MB |
| Dead Men Prowl Part 10 | Sep 09, 1944 | 4.13 MB |
| City Of The Dead Part 1 | Jan 08, 1944 | 6.69 MB |
| City Of The Dead Part 2 | Jan 15, 1944 | 5.91 MB |
| City Of The Dead Part 3 | Jan 22, 1944 | 5.85 MB |
| City Of The Dead Part 4 | Jan 29, 1944 | 5.94 MB |
| City Of The Dead Part 5 | Feb 05, 1944 | 5.98 MB |
| City Of The Dead Part 6 | Feb 12, 1944 | 5.66 MB |
| City Of The Dead Part 7 | Feb 19, 1944 | 5.54 MB |
| City Of The Dead Part 8 | Feb 26, 1944 | 5.53 MB |
| City Of The Dead Part 9 | Mar 04, 1944 | 5.55 MB |
| City Of The Dead Part 10 | Mar 11, 1944 | 5.62 MB |