Abbott and Costello - 12 Mp3 Downloads Available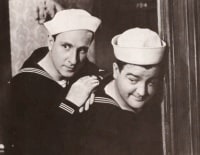 Abbott and Costello where one of the most popular duo comedy teams in history through radio and television. William (Bud) as Abbott and Lou Costello (born Louis Francis Cristillo).

The two comedians first worked together in 1935 at the Eltinge Burlesque Theater on 42nd Street in New York.
They became famous for their most popular act, "Who's on First?" whose rapid-fire word play and comprehension confusion set the preponderant framework for most of their best-known routines.

Bud Abbott was born in Asbury Park, NJ, October 2, 1895 and died April 24, 1974 in Woodland Hills, California. Lou Costello was born in Paterson, NJ, March 6, 1906 and died March 3, 1959 in East Los Angeles, California.