Free Old Time Radio Shows from "The Golden Age of Radio!"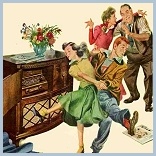 Welcome to OldRadioWorld.com! Here at OldRadioWorld.com you will find some of the most popular radio programs of the 1930s, 1940s and 1950s. Before television, radio provided entertainment by presenting radio plays and programs of mystery, intrigue, and comedy. Of course, news was present as were many soap operas.

I have been a big fan of Old Time Radio over the years and my preferences for programs have evolved, but one thing still amazes me, the sound effects and how the sound men created them. The nine minute video, "Back of the Mike", begins with a child listening to the radio and his imagination is put on the screen. The camera then goes to a 1930s era radio sound studio where the program is originating. This video gives you an insightful look at how those intriguing and astonishing sounds were created.

Radio has been around for a long time and although there are more commercial radio stations on the air than ever before, there isn't really much worth listening to unless you like lots of commercials and little creativity.

COMEDY
Abbott and Costello | Adventures of Ozzie and Harriet | Aldrich Family | Amos n Andy | Baby Snooks Show | Blondie | Bob Hope | Date with Judy | Ed Wynn The Fire Chief | Father Knows Best | Fibber McGee and Molly | Great Gildersleeve | Jack Benny | Judy Canova Show | Red Skelton |
DRAMA
Adventures By Morse | Adventures of Maisie | Adventures of the Thin Man | Authors Playhouse | Black Museum | Bold Venture | Campbell Playhouse | Cathy and Elliott Lewis On Stage | Dragnet | Encore Theater | FBI in Peace and War | First Nighter Program | Gang Busters | Lives of Harry Lime | Nightbeat |
MYSTERY
Adventures of Leonidas Witherall | Barry Craig Confidential Investigator | Beyond Midnight | Boris Karloff | Candy Matson | CBS Radio Mystery Theater | Danger Dr Danfield | Escape | Horatio Hornblower | Lights Out Radio Shows | Man Called X | Quiet Please | Suspense | Whistler |
SCI FI / SUPERHEROS
2000 Plus | Avenger | Batman | Blue Beetle | Falcon | Flash Gordon | Frankenstein | Journey to the Center of the Earth | Omar The Wizard Of Persia | Planet Man | Superman | X Minus One |
WESTERN
American Trail | Death Valley Days | Fort Laramie | Frontier Town | Gene Autry | Gunsmoke | Hopalong Cassidy | Red Ryder | Roy Rogers | Tales Of The Texas Rangers | The Town Crier |
DETECTIVE STORIES
Adventures of Sam Spade | Amazing Mr Malone | Blackstone The Magic Detective | Boston Blackie | Sherlock Holmes | The Shadow |
MUSIC
Artie Shaw | Benny Goodman | Bob Crosby | Eddie Arnold Show | Glen Miller | Louis Armstrong | Ray Anthony Show | Theater of Hits | Tommy Dorsey |
MISCELLANEOUS
Fireside Chat with Franklin D. Roosevelt | Jerry of the Circus | Les Miserables | Vintage Commercials | Voices of History | World War II News Broadcasts |